Shanghai in a dumpling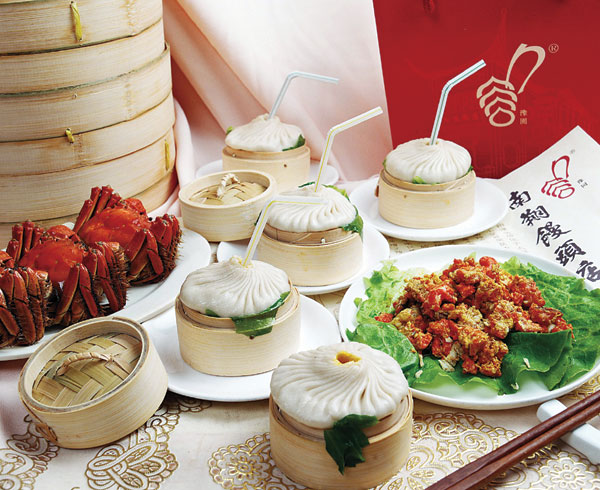 TOO GOOD TO RESIST: Steamed bun with crab roe soup stuffing [Photo provided to Shanghai Star]
The Nanxiang steamed bun has stood the test of time to remain a staple local favorite. Wang Ying goes into the kitchen to find out more.
Nanxiang Steamed Bun Restaurant may be 114 years old already, but it has lost none of its appeal to the gourmets and gourmands that enter and leave its doors. It serves the famous steamed dumplings stuffed with pork or crabmeat and crab roe that Shanghai residents always recommend to visitors.
The Nanxiang mantou, or bun, was first invented and named after Nanxiang, a town near Shanghai. But, the most famous steamed bun restaurant operating under the Nanxiang brand is located in City God Temple precinct in downtown Shanghai.
Three floors of choices await the line outside the restaurant, a red-and-white building near the exquisite Jiuqu Bridge, the nine-bends bridge inside the temple compound, now a bustling pedestrian mall. The wait may be an hour or longer, but diners say it's worth it just to get a bite of the freshly steamed buns, full of hot and delicious juice and finely chopped pork.
LITTLE POUCHES OF DELICACY
The Nanxiang bun is also called xiaolongbao by the Shanghainese, referring to the bamboo baskets they are steamed in. You Yumin, deputy manager of the Yu Garden store in the City God Temple precinct, says the effort that goes into making the bite-sized buns is no mean feat.
You, who is the sixth successor of the Nanxiang Steamed Bun brand, says the store opens at 10 am, but many local customers are already standing in line well before then, with some of them waiting since 7 am.
A box of 16 steamed buns costs 12 yuan ($1.90) at the takeaway counter on the first floor, and the price for a serving of eight buns stuffed with crabmeat is 25 yuan if you choose to eat in the restaurant on the second floor. Steamed buns served on the third floor of the building cost 40 yuan for six, either stuffed with pork or spicy pork and crabmeat.
"Apart from the shorter waiting time, the quality of the raw materials and the craftsmanship goes up from floor to floor," You explains.
For the novice, it takes some time to get familiar with these little pouches of delicacy. The special broth inside the bun, a spoonful of rich warming soup, is the essence of the thin-skinned xiaolongbao.