Shanghai in a dumpling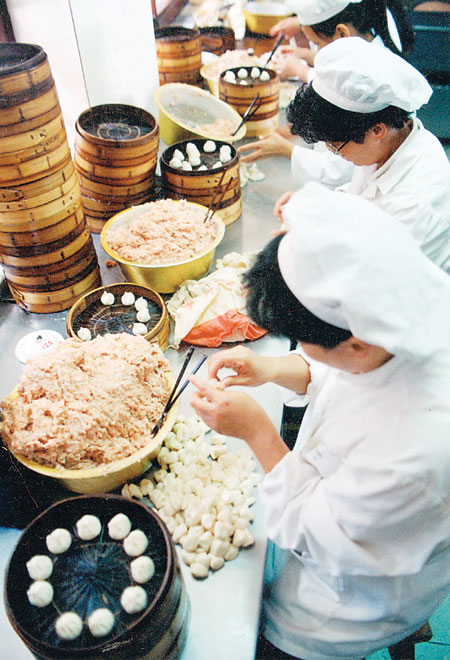 The three-story Nanxiang Steamed Bun Restaurant in City God Temple precinct. [Photo provided to Shanghai Star]
The best way to eat it is to lift it gently off the bamboo basket to avoid tearing the skin. The juice is piping hot so the experienced bun connoisseur bites off a little corner to let the steam escape.
The juices that flow out into the spoon are the best part of the experience. Most Chinese diners will order a little saucer of vinegar with finely-sliced ginger to go with the buns.
Xiaolongbao was first invented in Nanxiang when the cooks figured out a way to add jellied meat consome to the minced pork filling. When the dumpling is steamed, the meat jelly melts and becomes that famous mouthful of piping-hot broth. There are numerous types of xiaolongbao available across Shanghai, but those at the Nan-xiang Steamed Bun Restaurant are believed to be the best in terms of generous fillings, the paper-thin skins, and a delicious broth, says You.
Six generations of bun sellers You Yumin started working at the eatery in 1996, when she was just 17. By now, she has worked through all the departments, and in 2010, she was named the sixth successor in charge of Nanxiang.
The shop now offers 14 kinds of stuffed steamed buns along with 11 other snacks available on the third floor, and each year, new fillings replace the least-popular ones.
"Last year, we replaced curry xiaolongbao with Tom Yum ones," You adds. "In 2009, we decided to offer the spicy pork and crab-stuffed steamed buns because of the popularity of spicy food, and it has become one of our most popular orders."
There are also stuffed buns available for vegetarians, as well as ones with Islamic or kosher beef fillings.