Shanghai in a dumpling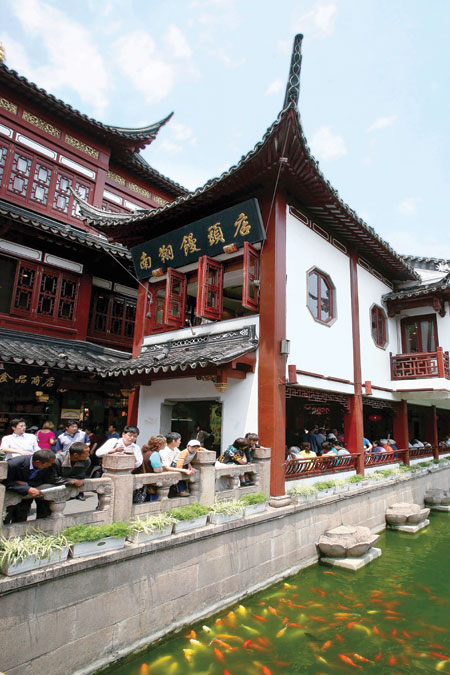 OVERSEAS OUTLETS Since opening its overseas outlet in Tokyo in 2003, 12 Nanxiang outlets have been established outside the Chinese mainland. According to You, gourmets as far away as Australia might be able to taste this oriental food in their own country within the next two years or so. [Photo provided to Shanghai Star]
BUN TO BUN, ON VARIOUS LEVELS
How do the dumplings compare on the different levels of the restaurant? We give you a comparison.
SKIN-DEEP
First floor: Pastry tends to be less evenly rolled by hand, the skin is less chewy, and each wrapper weighs about 8 grams. Third floor: Pastry is thinly spread out with two rolling pins, the skin is more resilient and not easily torn, each wrapper weighs 8 grams.
FILLING OUT First floor: 13 grams of stuffing made with pork, broth and fillers. Third floor: 22 grams of stuffing, made with selected pork cuts of better quality, 20 grams of pure broth and no fillers added.
WHO'S THE CHEF?
First floor: Experienced workers
Third floor: Mid-level chefs and above
BEST-SELLERS
Here are the favorites from the third floor of the Nanxiang Steam Bun Restaurant at Yu Garden
Steamed buns 
Stuffed with pork: 40 yuan for six
Stuffed with spicy pork and crab: 40 yuan for six 
Stuffed with pork and crab roe: 55 yuan for six
Stuffed with malantou and wild vegetables: 35 yuan for six Dim sum
Steamed bun with crab roe soup stuffing: 35 yuan for one
The super-sized soup dumplings are one of the most popular snacks at Nanxiang. The broth is made from ribs and old hens, after stewing for up to seven hours.
"It is super hot, you have to wait about 10 minutes before you sip the soup with a straw," You says. Apart from the soup, the rest of the fillings are made of crab roe and dried scallop.