The articulate steak & withdrawn chef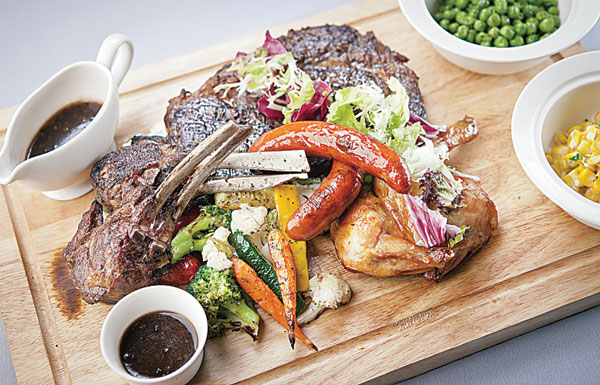 Mixed grill [Photo provided to Shanghai Star]
The chef may prefer to stick to the kitchen, but that's fine by Xu Junqian, who finds the food speaks for itself.
The chef at Flame Bar and Grill appears rather mysterious. Considering the modern culinary world runs much like the entertainment industry - with big, photos of handsome apron-adorned chefs posing confidently with, or sometimes without, their signature dishes, plastered on posters, menus and the cover of food magazines - this chef is conspicuous by his absence.
"He is too shy to show up. Saying hi to strangers may be more difficult for him than cooking a dinner for one hundred people," the management team tells us, half joking.
We are at the opening of Flame Bar and Grill that is tucked into a corner of the second floor of Jing'an Kerry Center. The contemporary restaurant boasts a relaxed, welcoming environment designed by Kohn Pedersen Fox Associates, who also designed the luxury shopping center in the heart of Shanghai.
But all we learned about the chef is that it's a "he". However, it's perfectly fine for "him" to be a kitchen recluse (although it is an open kitchen) because the food that arrives at the table is articulate enough to give a very informative speech about "him". The steak is a derivation from the Australian beef, grain fed for a minimum of 200 days, which, features a well balanced marbling ratio.