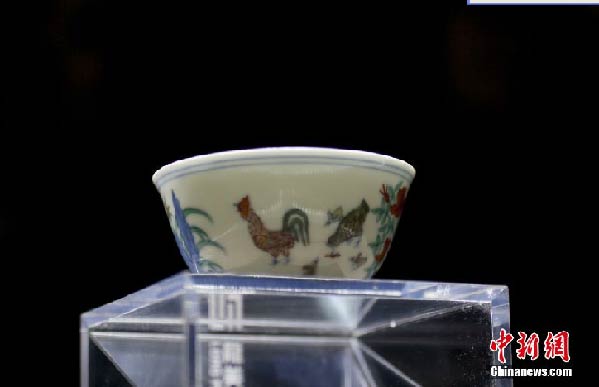 The chenghua doucai chicken cup is on display at the Long Museum West Bund in Shanghai. [Photo/Chinanews.com]
It made headlines around the world when Liu Yiqian paid a record sum for the "holy grail" of Chinese ceramics. Now the chicken cup is on display, and the collector wants people to know there is more to the piece than its impressive price tag. Zhang Kun reports.
After paying $36 million for a cup, what do you do with it? Liu Yiqian has chosen to put it on display at Long Museum, a private establishment owned by himself and his wife, Wang Wei.
The exhibition, The World of Zhu Jianshen: The Life and Times of a Chinese Emperor, features the chicken cup, alongside other ceramic pieces and art works from the same period.
The exhibition, showcasing about 30 items, opened at Long Museum West Bund, and will continue until Feb 8, 2015.
Liu was aware of the challenge of putting the cup on public display even when he bought the valuable item via a telephone bid at a Sotheby's auction in Hong Kong in April. The cup set an auction world record for Chinese porcelain.
Although nicknamed the "holy grail" of Chinese art, Liu says the cup with a diameter of 8.2 centimeters can hardly warrant a proper exhibition on its own. He decided to present it in context, showing the ideology and culture of the historical era. "I intend to let people learn about the history and culture behind the piece, rather than its high price," he says.
Liu had the museum fa?ade painted bright yellow, like the imperial palace walls, and had replicas of the chicken cup made. Ten thousand of the replicas have been sold, the cheapest priced at 288 yuan.
The Ming Dynasty (1368-1644) marked China's first tentative steps toward the modern age, says Xie Xiaodong, curator of the exhibition. The central Ming period, dating from the mid 15th to 16th century, was especially meaningful because lots of changes took place in Chinese society. The economy developed rapidly, handcraft and trade progressed. The culture and spiritual life of Chinese people also took on a new look.
Besides fine ceramic pieces from the Long Museum's own collection, Xie also borrowed a series of pieces, including fragments and incomplete chicken cups, from the ceramic museum of Jingdezhen in Jiangxi province.
Jingdezhen was China's ceramic capital for centuries, and these pieces reflect the development of the craft and technique of ceramic processing during the period the chicken cup was made.