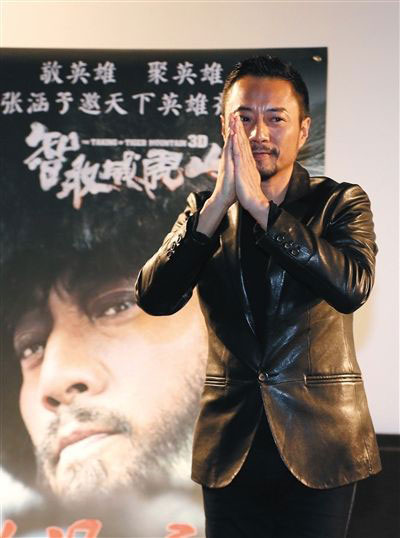 Actor Zhang Hanyu, who plays the undercover PLA soldier Yang Zirong, says he has wanted to play this role since he was five. [Photo/Beijing News]
Stars of the newly released film The Taking of Tiger Mountain have spoken in an about the movie.
Directed by Tsui Hark, the film is based on the popular novel Tracks in the Snowy Forest by Qu Bo.
Zhang Hanyu, who played the undercover PLA soldier Yang Zirong, recalled his bond to this role since childhood.
"I believe this is my destiny to star in this role. I've known Yang Zirong since I was five and I remembered his name since. I grew up with his name in my heart."
Tony Leung Ka Fai, who played as a ruthless bandit Zuo Shandiao, said he didn't perform the villain as a stereotyped role.
"I tried to show the human side of Zuo Shandiao, as someone who has feelings, emotions and joyful moments in his life."
The 3D action epic presents a vivid view of the snowy forest compared with the Peking Opera version, aiming to attract a younger audience.
The Taking of Tiger Mountain has already has huge success in China's box office since its release last week.
Related:
Tsui Hark revives China's red classic