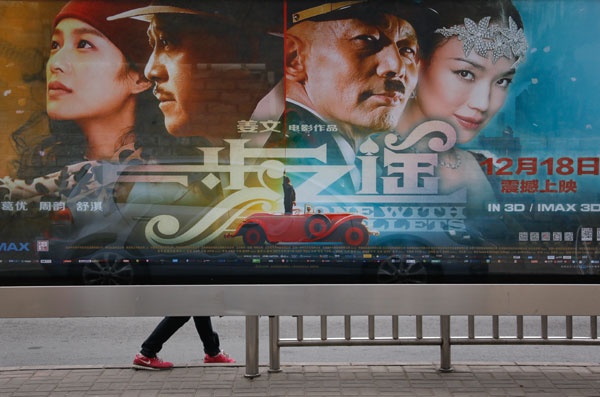 Posters of Jiang Wen's new movie Gong With the Bullets can be easily seen on the streets of Beijing. [Photo by Kuang Linhua/China Daily]
Critics, filmgoers' reviews and cinema attendance have shot holes in projections that Gone With the Bullets would be the highest-grossing film in China's box-office history.
Viewers are polarized, and the debate has perhaps lasted longer than any other about a film in the country's history. Social media has continued buzzing since the film's Dec 15 premiere.
Filmmaker Wu Zhishuo's microblog rebuke is probably the harshest and most frequently retweeted comment: "Except for the soundtrack, nothing is right. With inflated self-confidence, (director and lead actor) Jiang Wen doesn't consider audiences. He's made a narcissistic, psychopathic and individualist work."
Jiang's die-hard fans pushed back after the film officially hit the country's big screens on Dec 18, after two years of preparation and three months of high-octane marketing.
Yet netizens rate the film 6.3 out of 10 on film-fan site Douban.com. And it got 4.9 points out of 10 on Gewara.com, a film-rating website only for ticket purchasers.
Jiang isn't a prolific director.
His opening salvo was the award-winning In the Heat of the Sun in 1994.