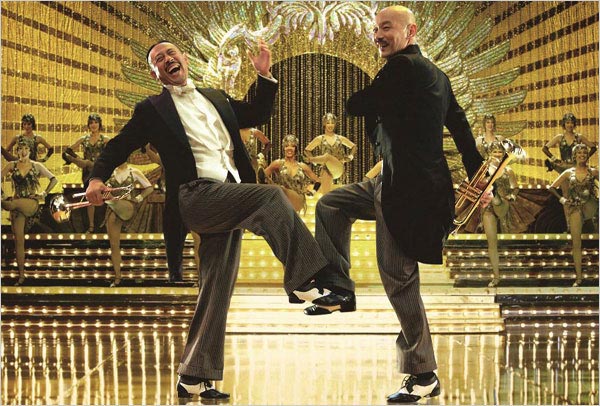 The first still of Jiang Wen's new film "Gone with the Bullets" has just been released. Film's director and actor Jiang Wen and actor Ge You dance in the scene. [Photo/gb.cri.cn]
It's been a good week for Chinese director Jiang Wen.
Shots fired from mainland movie critics at Jiang's new film, "Gone With the Bullets," couldn't down the feature's bulletproof box office numbers.
The film earned $36 million over the weekend to put its total cume up to around $49 million since premiering last Thursday.
That puts "Gone With the Bullets" atop the Chinese box office and makes it the second-highest grossing movie this weekend worldwide.
The day after the premiere of "Gone With the Bullets," Chinese movie critics like producer Wu Zhishuo attempted to shoot down the film, saying it was "self-aggrandizing" and "non-sensical."
Set in 1920s Shanghai, the film is about the drama, deceit and romance that surrounds a beauty pageant. It is also a non-linear sequel to Jiang's 201 hit film, "Let the Bullets Fly."
Related:
'Gone with the Bullets' receives mixed responses
Jiang Wen poses for Bazaar Men's Style