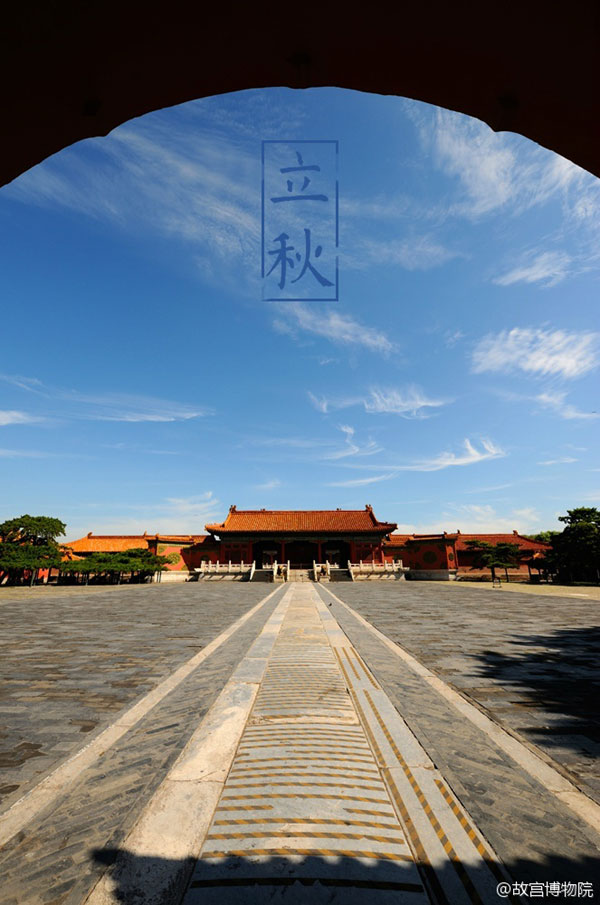 Start of Autumn (Chinese: 立秋), the 13th solar term of the year, began this year on Aug 7 and ended on Aug 22. It starts when the sun reaches the longitude of 135°. The Start of Autumn not only foretells the end of the scorching summer, but also indicates the fruitful season is approaching, a time when early rice is gathered and late rice is transplanted. It is the time that autumn crops come into their crucial growing stage. In ancient China, people emphasized a lot on the Start of Autumn since they regarded it as the significant point when summer turned into autumn. For more information, please read: 9 things you may not know about Start of Autumn.[Photo by Wang Jin/Palace Museum]
"Phenology of Forbidden City" is a well-received column on Palace Museum's official microblog, which captures the transition of four seasons inside the museum.
As the traditional Chinese lunar calendar divides the year into 24 solar terms, it shows beautiful photos of flowers, trees, birds, and cats inside the museum according to each solar term.
"The photos enable people to see the transition of four seasons in a year, which makes it feel like the Palace Museum is alive," the museum's photographer Wang Jin told Beijing Daily.
According to Wang, the idea of uploading the column struck him after his photos on the first snow on Forbidden City on Feb 7 became a great hit on the museum's official Weibo.
Thereafter, on each solar term, Wang would take some photos of animals and plants to reflect the change of seasons during the year.
"We can experience the beauty of the Forbidden City only with our souls. We should slow down our steps to observe carefully, rather than glance at things in a hurry, and then we can see a more beautiful Palace Museum," Wang said.