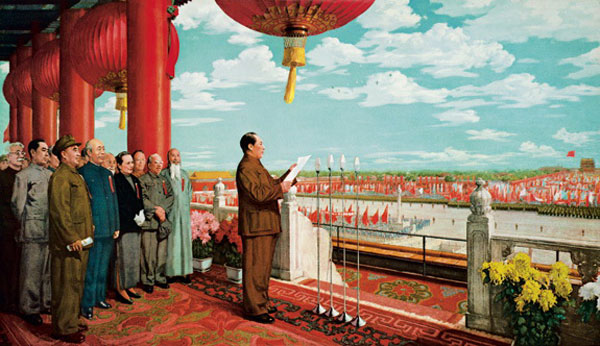 Founding Ceremony of China, oil on canvas, by Dong Xiwen, 1952. [Photo provided to China Daily]
The original draft for New China's founding ceremony is unveiled in a major retrospective of painter Dong Xiwen's pieces. Deng Zhangyu reports.
The Founding Ceremony of China has been considered among the country's key historical artworks since it was painted by late artist Dong Xiwen in 1952.
But it wasn't widely known that alterations to the final piece - reflective of political changes in China in the past few decades - had been made, until the original draft was recently unveiled in public for the first time.
A major retrospective of Dong's works to mark the 100th anniversary of the artist's birth opened at the Art Museum of the Central Academy of Fine Arts in Beijing on Dec 19 - more than half a century after the draft of Founding Ceremony of China was thought to have gone missing.
According to the artist's daughter, Dong Yisha, the draft had remained in their family home in Beijing for all these years, awaiting an "appropriate opportunity" for a public showing. The oil painting has since stayed with the National Museum of China.
The Founding Ceremony of China portrays chairman Mao announcing the birth of New China from the rostrum at Tian'anmen Square in 1949.
Mao is said to have seen the original piece and praised it for projecting China's rise.
But three political figures standing behind Mao in the 1952 painting were changed in subsequent years.