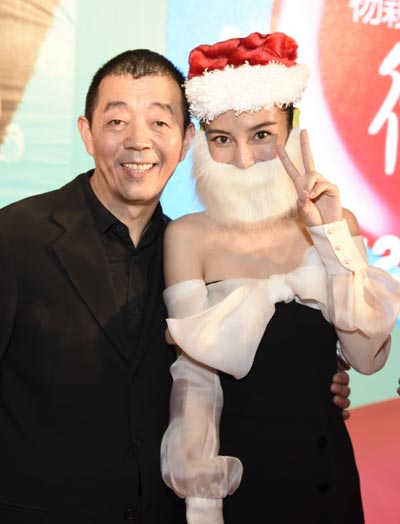 Director Gu Changwei (left) and actress Angelababy appear at an event to promote Love on the Clouds in Beijing. Photo provided to China Daily
Love stories have become a hit genre on the big screen during the annual golden period.
Statistics from domestic movie research websites show that about one-third of the more than 70 movies that will be screened during this holiday season are romantic productions.
The annual period surrounding Christmas, New Year and Spring Festival is regarded as the best time for moviemakers to earn big money at the box office.
One movie targeting young moviegoers this holiday season is Love on the Clouds, which premiered on Wednesday, or Christmas Eve.
The feature-length comedy, directed by Oscar nominee for best cinematography Gu Changwei, follows a metropolitan screenwriter (Chen He) who uses WeChat to make friends and falls in love with a model (Angelababy), who initially just uses the social networking app to search for one-night stands.
The movie is Gu's first commercial comedy in his 30-year cinema career.
The 57-year-old filmmaker known for his art-house movies, such as Berlin Silver Bear winner Peacock (2005), hopes the comedy will give hope to people struggling with life in a big city.
"Every person in the movie is chasing his dream and struggling for a better life. Though it's a comedy, I hope audiences will cry during some of the touching scenes," Gu says.