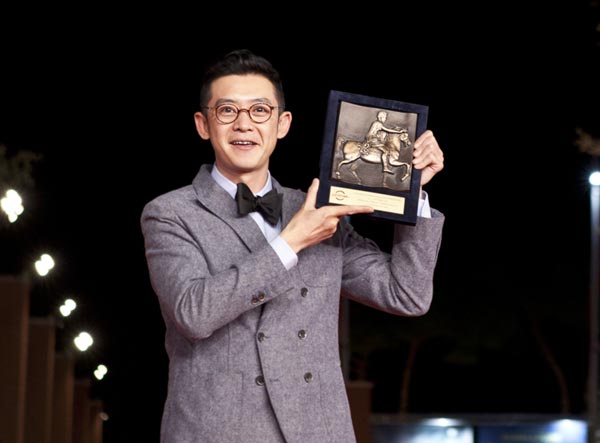 Xu Ang's Twelve Citizens-an adaptation of 1957 US movie 12 Angry Men-won the best movie award at the Roman International Film Festival. Luca Dammicco / China Daily
A director's debut film resets a classic US courtroom drama in modern China, Xu Fan reports.
When Xu Ang held aloft the top award of the 9th Roman International Film Festival, the director had never expected this moment.
On Oct 25, the closing day of the event, more than 900 votes from moviegoers, including insiders and reporters, decided that the Marcus Aurelius Award, for the best movie in the festival, should go to the legal drama Twelve Citizens. It was Xu's debut film.
No other Chinese film has ever won that glory, though other nominated films included the disaster epic 1942 (directed by Feng Xiaogang) and romantic drama Life Is a Miracle (starring Zhang Ziyi and Aaron Kwok).
At age 36, the youngest director in Beijing People's Theater seems a humble man who prefers to keep a low profile.
In a small cafe in eastern Beijing, Xu says: "When we decided to shoot the movie, we had no commercial considerations or plans to compete for international prizes. So winning the award in Rome was an unexpected surprise."
Twelve Citizens, adapted from the 1957 American drama 12 Angry Men, tells the story of a court composed of 12 Chinese people from different walks of life. In an abandoned gymnasium, their discussion and votes will decide the fate of a young suspect who is charged with murdering his father.
The American movie, which starred Henry Fonda, swept a slew of major film honors.
The first attempt to transpose the Western legal system onto the Chinese big screen was much acclaimed.
Marco Mueller, the festival's director, says he has never before watched an ensemble production that reflects the real China, adding that it was a good adaptation of a classic production.
Serge Losique, Montreal International Film Festival director, reveals that he had watched the Chinese remake earlier than the premiere in Rome when it was still in the post-production stage. He observes that the social conflict between the rich and the poor portrayed in the movie is an accurate depiction of the reality in the fast-changing country.