Russian classics staged in concert
The Russian National Symphony will present a New Year's concert. Launched in Moscow in 1990, the company has toured extensively and issued 75 recordings with international labels. The program consists of Russian Easter Festival Overture by Rimsky-Korsakov; Suite from Romeo and Juliet by Prokofiev; and Symphony No 5 by Tchaikovsky.
7:30 pm, Thursday (Jan 1). Shanghai Oriental Art Center-Concert Hall, 425 Dingxiang Road, Pudong New Area, Shanghai. 021-6854-1234.
From Russia with love-of music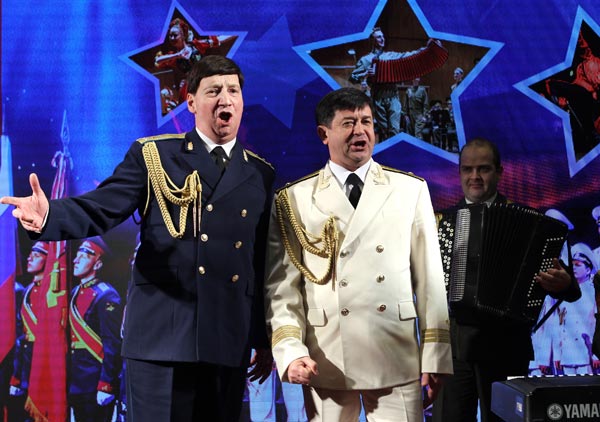 More than 100 singers and dancers from Russia's Alexander Red Flag Song and Dance Troupe will perform in Beijing with Russian classic folk songs, such as Katyusha and The Night on Moscow's Outskirts. The troupe will also perform five Chinese folk songs, including Jasmine and I Am a Soldier.
7:30 pm, Thursday (Jan 1). Great Hall of the People, west of Tian'anmen Square, Xicheng district, Beijing. 400-615-5111.
German orchestra in concert
Under the baton of Martin Fischer-Dieskau, the German Radio Orchestra will perform in concert, including Wagner's prelude to Lohengrin and Johann Strauss II's Tritsch Tratsch Polka.
7:30 pm,Jan 5. Beijing Concert Hall, 1 Beixinhua Jie (Street), Xicheng district, Beijing. 010-6605-7006.
3 modern artists
Meaning and Matter: The exhibition at MD Gallery features three renowned contemporary Chinese artists: Huang Rui, Li Hongbo and Jiang Ji'an. Curated by Pauline Foessel, the artists have created pieces that tell unique, poetic stories.
10 am-6 pm, Tuesday (Jan 6)- Sunday (Jan 11), through Saturday. MD Gallery, 188 Linqing Road, by Yangshupu Road, Yangpu district, Shanghai. 021-5513-9599.