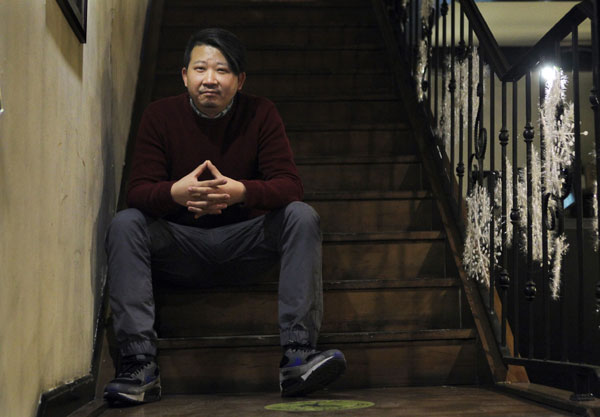 Pioneering theater director Rao Xiaozhi says he likes to explore the relationship among people and the relationship between humans and society.[Photo by Zou Hong/China Daily]
Rao Xiaozhi will never forget a news story he read online in 2010, about a bus driver in Italy transporting three patients to a psychiatric hospital. When the driver stopped to get some drinks, the patients escaped. Afraid that he would lose his job, the driver grabbed three people from the street and took them to the hospital.
It took the hospital staff nearly a month to figure out that the patients were actually healthy people.
"How do you prove that you're not insane in a psychiatric hospital?" Rao, the pioneering theater drama director, asks.
The question not only haunted him but also inspired him to make a drama, titled Hello, Lunatic!.
The story revolves around seven people, including a cowardly lawyer, an honest journalist, a rude taxi driver and a snobbish party girl, who are locked in a psychiatric hospital and trying to prove that they are not crazy.
The drama premiered in Beijing in 2013 and toured around the country, returning to the capital this month for performances at TNT Theater.
The stage setting is dominated by black walls and white beds, which provide a strong contrasting visual backdrop for the story to unfold. Sitting in the dark theater during a recent performance, Rao says that he enjoys observing the reaction of audiences.
"I like exploring the relationship among people and the relationship between human beings and society. When you are considered crazy, what are you going to do? Are you trying to prove you are a normal person? Or are you just being yourself?" says the director.