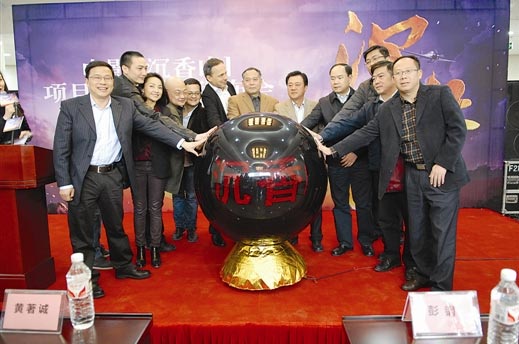 Producers and staff of the film Chenxiang Mountain attend a press conference in Beijing on Dec 23, 2014. [Photo/ngzb]
NANNING -- Li Xiuying was never re-united with her French lover after war parted them, but a new Chinese-French movie may allow them to meet again on the screen.
Chenxiang Mountain is the latest film to be co-produced by China and France following The Nightingale and Wolf Totem. Set during WWII, it tells the love story between a Chinese girl and a French soldier.
Shooting started on Sunday in south China's Guangxi Zhuang autonomous region.
Fan Yiping, who wrote the script, said the film was inspired by the love story an ethnic Yao woman from Shangsi County, a mountainous part of Guangxi.
Li Xiuying met the soldier in 1945 as the French army, defeated by the Japanese, retreated from Vietnam into China. The soldier left a year later with his army and Li waited over 70 years for his return. Li died in 2013, at 95.
"The script writing took me five years to write, but it was nothing compared to Li's wait," said Fan, who met Li five years ago.
Denis Dercourt, French director of the film, is also a musician. He said apart from using image and scenery to enhance the love theme, music will also play an important role in the movie.