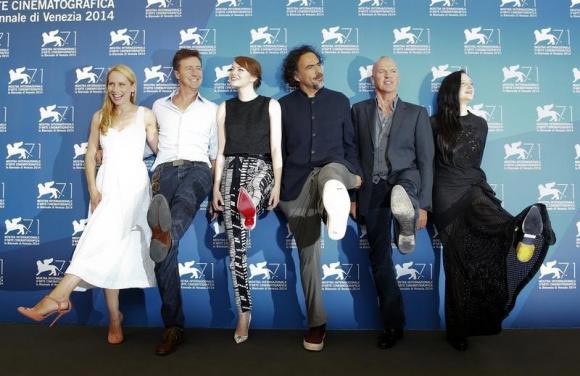 Director Alejandro Inarritu (3rd R) poses with actors Amy Ryan (L), Edward Norton (2nd L), Emma Stone (3rd L), Michael Keaton (2nd R) and Andrea Riseborough (R) during the photo call for the movie "Birdman or (The unexpected virtue of ignorance)" at the 71st Venice Film Festival August 27, 2014. [Photo/Agencies]
"Birdman" and "Boyhood," two of the front-runners for Hollywood's film honors this year, were nominated along with a slew of small movies on Monday for the top Producers Guild Award, a reliable predictor of the best picture Oscar.
Among the 10 films nominated for outstanding producer in the a motion picture were noir LA drama "Nightcrawler" and the tale of a drummer's obsession in "Whiplash," both small independent films with Oscar chances.
The notable exclusions were two films that opened Dec 25, Angelina Jolie's second film as director, the World War Two survival story "Unbroken," and the civil rights drama "Selma."
Clint Eastwood's portrayal of an Iraq war hero in "American Sniper" made the list, as did two British biopics, "The Imitation Game" and "The Theory of Everything."
Rounding out the nominations were the film adaptation of the best-selling novel "Gone Girl," the American wrestling tragedy "Foxcatcher" and the offbeat period comedy "The Grand Budapest Hotel."