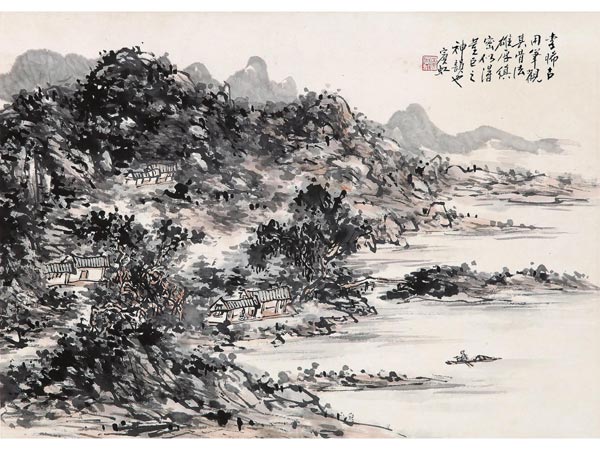 A painting by Jao Tsung-I. [File photo]
The National Museum of China will hold several important exhibitions to pay tribute to such noted Chinese artists such as Huang Junbi (1898-1991), Jao Tsung-I and Pan He.
Huang is known as one of the "Three Masters across the Straits" together with Pu Xinyu (1896-1963) and Zhang Daqian (1899-1983) who moved to Taiwan after 1949 and whose attainments of Chinese painting have cast profound influence in the Chinese communities worldwide. Son of a businessman in Guangzhou, Guangdong province, Huang inherited interest in art from his father who indulged in collecting paintings and antiquities. Huang distinguished himself in the circle of modern Chinese painting as being long-lived and prolific. He was also the private tutor of Soong Mei-ling, or Madame Chiang Kai-shek.
Two separate exhibitions will display the artistic achievement of Huang Binhong and Jao Tsung-I (Rao Zongyi). The national museum will cooperate with the Zhejiang Provincial Museum, which boasts high-quality works of Huang, to stage a commemorative show of the Chinese painting master who was born one and a half centuries ago. Another exhibition celebrates Hong Kong-based scholar Jao Tsung-I's 99th birthday, who has established his reputation in Chinese painting, calligraphy, poet and Chinese literature.
The national museum received 7.53 million visitors in 2014, of which foreign audience account for about 5 per cent. It ranked third in a poll of the 20 most visited museums around the world by the nonprofit Themed Entertainment Association, following The Louvre and The National Museum of Natural History in Washington DC.
Related:
Exhibition captures magic of Guilin landscape