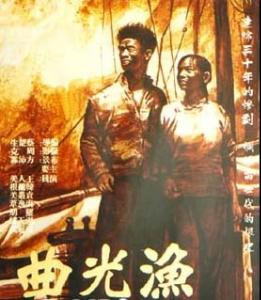 Poster for Song of the Fishermen (1934). [File photo]
Old celluloid films made decades ago have been suffering from the damaging stresses of age, but a nationwide campaign has been launched to restore such treasures of Chinese cinema history.
China Film Foundation, the largest of its kind in the industry, announced on Dec 19 that five classic productions have been restored as the campaign's first effort.
On the big screen of a cinema hall at the China Film Archive, the country's largest movie research organization, the sponsors screen the five films: Song of the Fishermen (1934), The External Wave (1958), Tracks in the Snowy Forest (1958), Zhang Ga the Soldier Boy (1963) and Camel Xiangzi (1982).
Sun Xianghui, president of the archive, said most of the film stocks can only be preserved well for four years, as the films will shrink, scratch and tear.
She said the old-film restoration is urgent work and there is a lack of professial staff to do it.
Yu Dong, CEO of Bona Film Group, one of the five sponsors donating to the foundation, said the restoration is a way to salute the renowned filmmakers and their classics.
According to the foundation, most countries, such as the United States, Russia and Italy, encourage privately owned companies and individuals to cooperate with the governments to work on old movie restorations.
Related:
Beautiful Taiwan actress is 'ugly' in movie