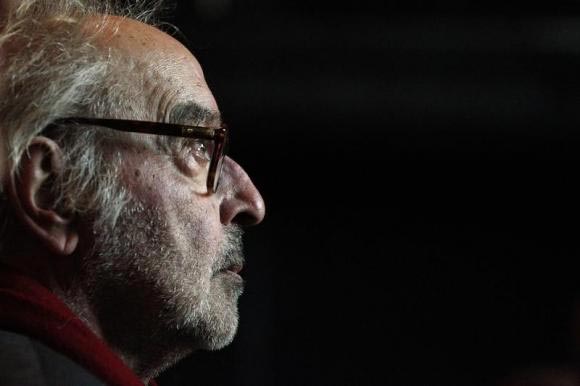 French-Swiss film director Jean-Luc Godard attends the 2010 Swiss Federal "Grand Prix Design" award ceremony in Zurich, November 30, 2010. [Photo/Agencies]
The National Society of Film Critics on Saturday named Jean-Luc Godard's 3-D film "Goodbye to Language" the best picture of the year, narrowly choosing it over Richard Linklater's acclaimed "Boyhood," for which Linklater won best director.
The group, made up of 59 prominent movie critics from newspapers, magazines and other media outlets, chose Timothy Spall as best actor for "Mr. Turner," about 19th-century British artist J.M.W. Turner.
Marion Cotillard won best actress for "Two Days, One Night," a Belgian drama about a factory worker who must lobby co-workers in order to keep her job.
Best supporting actress went to Patricia Arquette for "Boyhood," which chronicles 12 years in the life of a boy and which was filmed with the same actor over 12 years. J.K. Simmons won best supporting actor for "Whiplash," playing a hard-driving music teacher.
In choosing "Goodbye to Language" for their top honor, the critics departed from other groups such as the National Board of Review, the New York Film Critics Circle and even the Golden Globes, all of which ignored the film in their annual honors.
The inscrutable film, which even admirers called baffling, involves a married woman and a single man, and a stray dog. Shot in 3-D, a second film paralleling the first unfolds during the course of its 70-minute running time.
The critics awards are among the last in the run-up to the Oscar nominations, to be announced on Jan 15 in Los Angeles. The Academy Awards ceremony is slated for Feb 22.
Godard, 84, is among the world's most acclaimed directors, known for such classics as "Breathless," "Contempt" and Weekend."
In other awards, the critics chose "Citizenfour," about Edward Snowden and the National Security Agency spying scandal, as best nonfiction, or documentary film, while "The Grand Budapest Hotel" by Wes Anderson won for best screenplay. Best cinematography went to "Mr. Turner."
Film heritage honors went to a curator and film conservation manager at New York's Museum of Modern Art, and to Ron Hutchinson of The Vitaphone Project, which restores original soundtracks for early sound films.
Related:
Sexy China TV drama returns more sedate
Zhang Yimou awarded lifetime achievement at Macau Film Festival