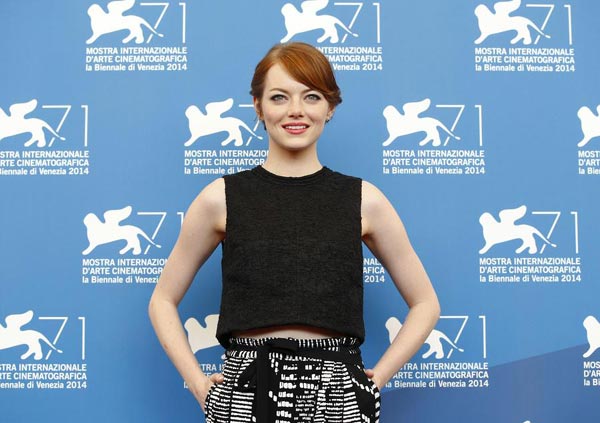 US actress Emma Stone poses during the photo call for the movie Birdman or (The unexpected virtue of ignorance) at the 71st Venice Film Festival August 27, 2014. [Photo/Agencies]
"Birdman," a satire of show business, and "Boyhood," a coming-of-age drama filmed over 12 years with the same actors, are the favorites going into the awards season that kicks off next Sunday with the Golden Globe Awards.
The Producers Guild of America has 6,700 members, and in its 25 years handing out its top award has managed to choose the eventual winner of the Academy Award for best picture for the last seven years.
The PGA hands out its awards on Jan 24, while the Oscars are held on Feb 22.
Sony Pictures Classics and Fox Searchlight Pictures, the art-house units of Sony Pictures and 20th Century Fox, each had two films in the 10 nominations. Among the big studios, only Warner Bros. and 20th Century Fox had nominees, with one each.
In the animated motion picture category, the PGA nominated blockbusters "Big Hero 6," "How to Train Your Dragon 2" and "The LEGO Movie," and smaller films "The Book of Life" and "The Boxtrolls."
Related:
Godard movie 'Goodbye to Language' is critics group's top film