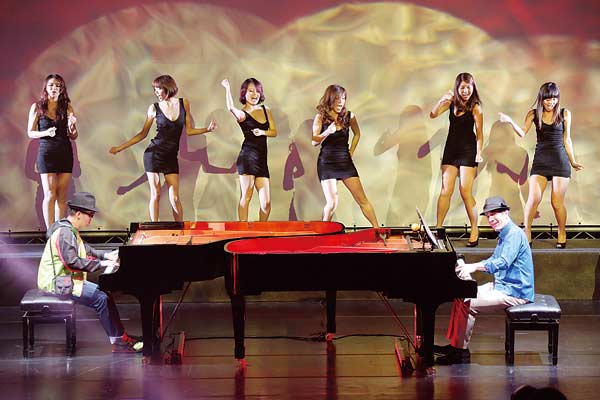 The show Just Play It will have scent pumped through the theater. [Photo provided to Shanghai Star] 
Shanghai theater lovers will have the chance to sniff and snap, as well as see and hear, during the coming season. Zhang Kun reports.
From a radio drama to a play you can smell — Shanghai theater-goers can expect something out of the ordinary over the Christmas and New Year season.
Tong Zirong and Liu Guangning along with other acclaimed voice actors, will present a new Agatha Christie play, Murder on Air, from Dec 19 to Jan 18, 2015 at the Shanghai Dramatic Arts Center.
Another show, Just Play It, will have pipes installed underneath the theater's seats, that will diffuse aroma oil throughout. The play by Ismene Ting is based on the true story of Hsu Tse-chen, a young blind man learning to play the piano with American professor John Vaughan.
Two performances of Just Play It will be staged at the Oriental Art Center on Jan 3-4. The audience will not only watch the play, listen to live music played on two triangle pianos on stage and smell the signature essential oil blends especially designed for the show, they will also have a chance to take photos of the show, when actors invite flashlights and camera shutters during the performance.
Just Play It premiered in 2010 and has been performed 100 times already. Ting's latest interpretation of the play aims to break more boundaries and bring some unprecedented practices into theater in China.
Often staff members in theaters point laser lights at audience members when they are caught taking pictures during the performance. The shutter sound and flashlight will disturb the actors so that they have to be stopped, but Ting wants to turn that to a positive direction. "During the performance, we will set aside a short period of time for the audience to take pictures."