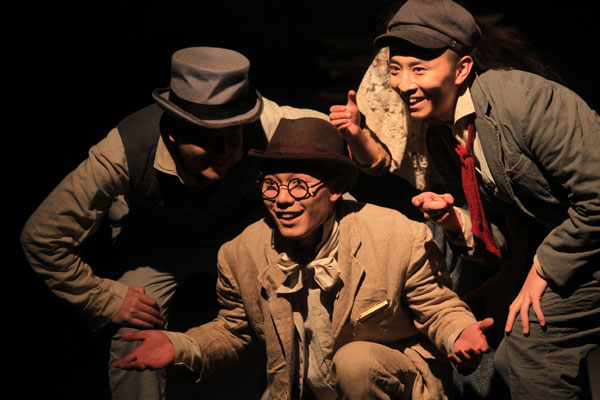 A scene from A Journey Around James Joyce, a British play featuring Chinese performers .It is among six plays during the China-UK Literary Theater Exchange in March and April. [Photo/China Daily]
Irish writer James Joyce's classic modernist novel Ulysses is often called the world's most difficult-to-read book. But it may be easy for Chinese audiences to understand its essence by watching a play based on it.
Yi Liming, artistic director of Beijing Xinchan Theater, is teaming up with Andy Arnold, creative director of Tron Theater, Scotland, to bring the coproduction featuring Chinese performers to Hangzhou, Shanghai, Beijing and Nanjing in the spring of 2015.
"I never expected the play would come to China. It's so exciting," says its director Arnold.
"It's a very visual piece. Anyone can identify with the stories, such as the loss of a child, jealousy, anger and loneliness, which are all universal things. Hopefully, it will work for the Chinese audiences."
The novel depicts the encounters of advertising agent Leopold Bloom in Dublin on June 16, 1904. Ulysses is the Latinized name of Odysseus, the hero of Homer's epic poem Odyssey. Joyce wrote the novel to parallel Odyssey both in terms of characters and events.
"I've put in so many enigmas and puzzles that it will keep the professors busy for centuries arguing over what I meant, and that's the only way of insuring one's immortality," Joyce is quoted by Richard Ellmann as saying in the biography James Joyce in 1959.
But Arnold is confident he will create an understandable version onstage.
"The key to it is to have a writer who understands the book and presents us its essence," Arnold says.