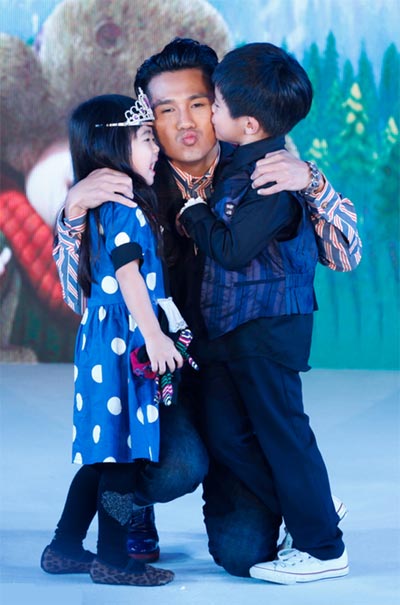 Chinese Malaysian singer-songwriter Gary Chaw and his children join a media event in Beijing to act as spokespeople for the new Boonie Bears movie. [Photo/Agencies]
The latest prequel in the popular Boonie Bears movie series, set to be screened early next year, drew a crowd of media last week when the producers invited popular Chinese Malaysian singer-songwriter Gary Chaw and his two children as spokespeople.
Boonie Bears II: Heroes in Snow Mountains (Xiongchumo: Xueling Xiongfeng) is a prequel to Boonie Bears: To the Rescue, a 2013 blockbuster that grossed the highest box office in the history of Chinese-made animation movies. The film chronicles the growing-up experiences of the leading roles, the two bear brothers, Briar and Bramble, and their rival, Logger Vick, a lumberjack who tries to chop down trees in the bears' natural habitat.
That's probably why the production chose 4-year-old Grace, Gary Chaw's daughter, and her 6-year-old brother Joe, who have shot to fame in the hit reality show Where Are We Going, Dad? aired by Hunan channel, to act with their father as the spokespeople for the 3-D animation movie, which will be released on the first day of next year's winter vacation for schools.
The family was selected to represent the animated film because the producers hoped the movie will not only win child audiences but also draw attention from adults.
At the press event in Beijing, Briar and Bramble, two cartoon characters in the hit TV series Boonie Bears, were played by two people clad in fluffy costumes. Four-year-old Grace Chaw was scared-she screamed and cried at the first sight of the two bears.