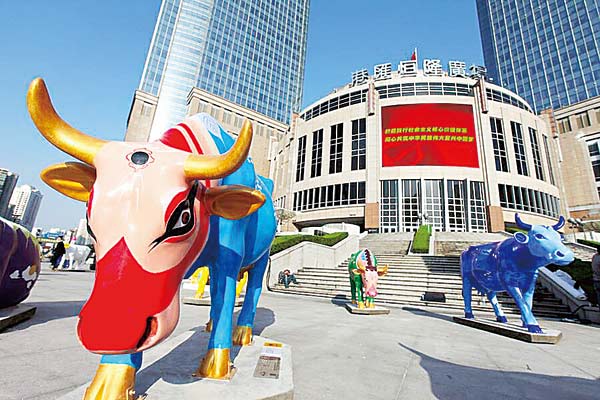 Herd life: A colorful cow in Xujiahui, Shanghai. Photos provided to Shanghai Star
The Cow Parade has traveled around the world and now it is in Shanghai, delighting city residents with its colorful creations. Zhang Kun reports.
From Moozart to Moondrian, Picowso to Metallicow, since 1999, Jerry Elbaum has paraded all over the world with 6,000 cows in tow.
Elbaum, 75, is the founder of the Cow Parade, an international public art exhibit featuring fiberglass cows decorated by local artists that have toured to city centers and public spaces around the world for 15 years.
He is now bringing hundreds of these life-size cows to Shanghai for the first time, inviting artists, celebrities and the general public to create their own art work with them.
Many of the completed works are already "grazing" at Lujiazui, the Bund, Xujiahui and other landmark locations in Shanghai.
Cow Parade has visited more than 70 cities and 6,000 fiberglass cows have been turned into works of art. They are sold at auction or through other means, to raise money for charity.
Elbaum was an attorney on business travel in Zurich, Switzerland, when he came across the first exhibition of cows in a public art show there in 1998.
He loved the idea so much he decided to take the event to the United States. The next year he was organizing the first Cow Parade exhibit in Chicago. Then invitations kept coming, till he became president of CowParade Holdings Company, taking the event all over the world.
Elbaum attributes the continual popularity of Cow Parade to the unique qualities of the farming animal: "they are known to virtually all cultures in the world. Everybody can relate to a cow. They are friendly and quirky: they do unexpected things that are so funny."