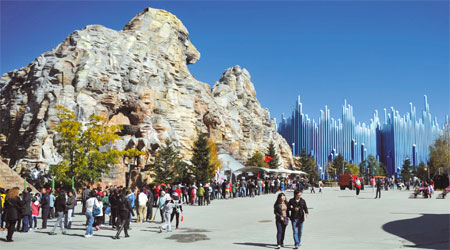 The Changchun Movie Wonderland has received over 8 million people from both China and abroad since it opened 10 years ago. [Photo Provided to China Daily]
Changying aiming high with plans to diversify and explore cross-provincial projects
Celebrated as the cradle of new China's film industry, Changying Group, formerly known as Changchun Film Studio, has found a path to diversified development and is making efforts to grow into an industry giant.
The company was founded in 1945 and has made several unprecedented achievements in China's film history. Its classics, such as Liu Sanjie and Five Golden Flowers, are among the best-known films nationwide.
The company suffered from the economic transformation in the mid-1990s. Since 1998, it was among the first group of cultural organizations in China to carry out systematic reforms.
After bold reforms, Changying entered a new stage of development as a State-owned film company and a cultural industry player.
The firm's latest development strategy is to build its brand with films and seek further development in related industries, according to Liu Lijuan, chairwoman of the group.
She said Changying Group's future development highlights included "strengthening movie production, building up a brand, diversifying operations and enlarging its scale".
The company also plans to attract talented professionals and get listed on the stock market, according to Liu.