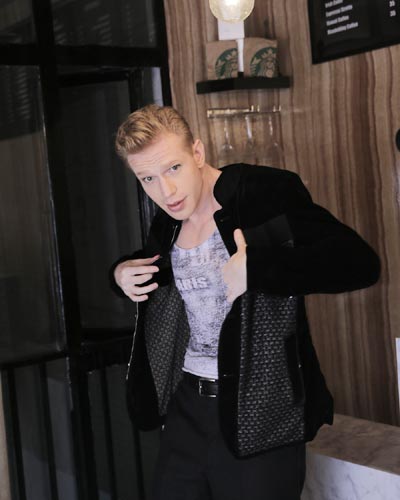 British actor Adam Palin appears in many Chinese TV dramas starring Western faces, playing such roles as that of a Flying Tiger pilot and Edgar Snow. Photo provided to China Daily
Thirty-something British actor Adam Palin has become one of the most regular Western faces in recently produced Chinese historical dramas.
He has played, among others, an interpreter of former Chinese leader Deng Xiaoping, a Flying Tiger pilot during World War II and Edgar Snow, the famous US journalist who shared an uncommon friendship with Chairman Mao Zedong.
"China is one of the fastest-changing countries in the 21st century," the actor says in fluent Chinese, even with a slight Beijing accent. "Though Chinese history goes a long way back, I am glad to perform in dramas that are set in more recent history, which still has much influence on today's life."
The actor, who has a master's degree in finance from University of Cambridge, had come to China in 2009 for a business venture but instead found himself on the Chinese small screen.
Born in William Shakespeare's hometown of Stratford-on-Avon, Palin grew up in a place known for its strong atmosphere for stage performances.
Because his parents were diplomats, he was a world traveler from childhood, which he says has also greatly enriched his experiences and opened his horizon. This versatile man had also tried modeling and formed his own band. Nevertheless, acting had remained his most cherished dream, especially after he studied performing at the renowned London-based Ealing Studios.
"It's hard to say whether I'd decided to be an actor before moving to China," he says, smiling. "Accidentally or not, I was invited to play my first role in a Chinese drama as a lawyer only a few months after I came here."
Palin confesses that it was challenging to play figures that are familiar to Chinese audiences, like Edgar Snow in the 60-episode historical TV series Mao Zedong (2013). But he maintains that he didn't feel any pressure.
On acting in Chinese shows, he says: "A unique characteristic of Chinese cinema is that it is able to draw on traditional Chinese types of performing, like Peking Opera, which is highly stylized. International audiences are more used to the Hollywood style of acting, where the emphasis is on naturalism. But I think a stylized approach can also be interesting."