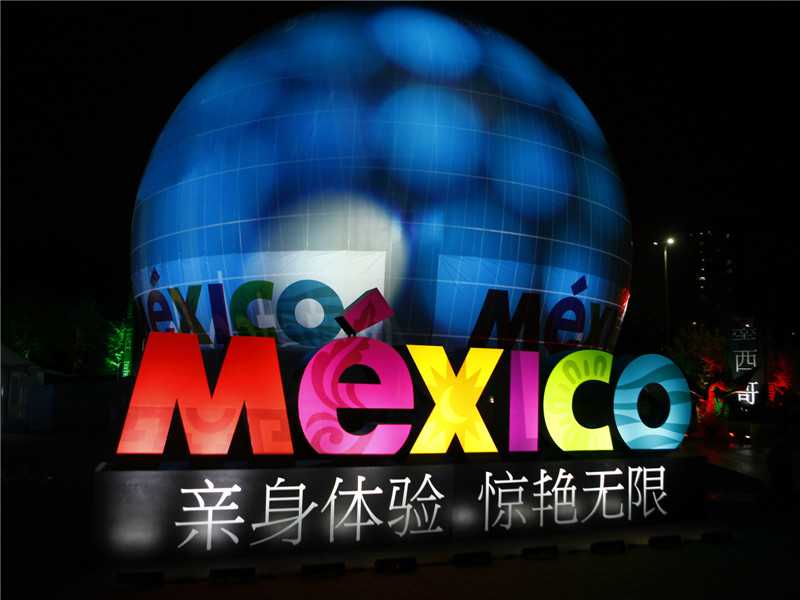 The Encuentrate con Mexico pavilion dazzles at night.
The mysteries of Mexican culture can be explored at Beijing's Chaoyang Park at the highly visual and interactive Encuéntrate con Mexico (Meet Mexico) exposition through Nov 20. The free exposition has traveled from Madrid to Beijing and will visit other countries.
It's located in a stunning white dome on the plaza near the park's West Gate 4 and the Solana shopping mall. Guests can watch a video on 12 oversized flat screens that tells the story of Mexico.
Inside the dome, 13 innovative stations bring Mexico to life with cutting-edge modern technology. Through the magic of holographic imaging, visitors can view more than 15 of Mexico's famous pre-Hispanic artifacts. An amazing interactive table visually demonstrates Mexico's accomplishments in the agriculture, automotive, silver and creative industries.
Visitors can play with interactive touch screens to learn more about Mexican artisans through advanced 3-D technology. They can also enjoy walking into a "virtual dressing room" to try on both contemporary fashion and traditional clothes.
One mustn't miss the beautiful artwork, the Vochol – a Volkswagen Beetle decorated in traditional beadwork of the Huichol people by eight indigenous artists. It took 9,000 hours of work to design and decorate with the more than 2.2 million beads that cover the automobile.
Visitors are also encouraged to interact with the official Mexico Tourism Board's Sina Weibo account to win prizes, such as a trip for two to Mexico.