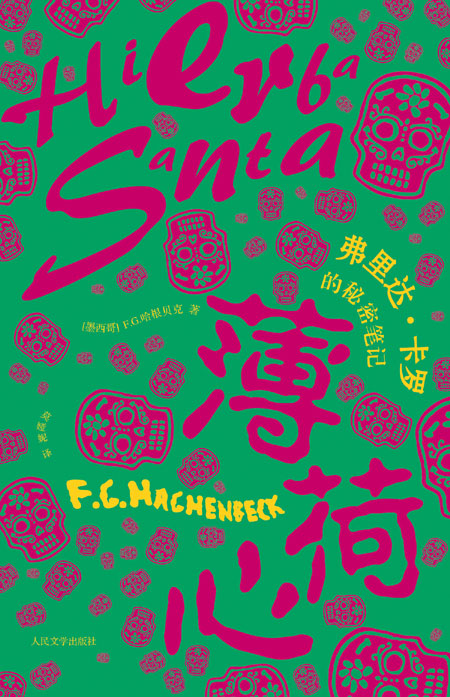 F. G. Haghenbeck's The Secret Book of Frida Kahlo in Chinese.
A bizarre fact about Mexico is that it has a holiday to celebrate death.
Visit the country in the first week of November and you will be surrounded by flowers, candles, sugar skulls and so on. Food and beverages pile up on altars for the deceased. People picnic at graveyards for their loved ones.
But that doesn't mean Mexicans don't love life. In fact, it's quite the opposite.
"You are a strange people," a friend used to tell Francisco Gerardo Haghenbeck, the internationally renowned author from Mexico. "You are just happy listening to sad songs and celebrating the dead."
F. G. Haghenbeck - whose latest novel, The Secret Book of Frida Kahlo, has just been published in Chinese - made his first visit to China during the Shanghai International Literary Festival in March.
"Frida Kahlo is the new face of Mexico," Haghenbeck says. He explains the first image coming to people's minds about Mexico is no longer the horse-rider with moustache and a giant hat but a unibrowed woman artist: Frida Kahlo.
The artist's image is printed on bank notes and postage stamps. Her story has been made into movies, plays and even an opera. Kahlo (1907-54) lived a bumpy life. She suffered from polio as a child and injury from a bus accident as a teenager. Her marriage with Diego Rivera, also an important artist in Mexico, was troubled and volatile. The chaos of her experiences is reflected in her surrealistic self-portraits, which are her most acclaimed works.
"She is a strong woman," Haghenbeck says. "She suffered a lot, but always loved life. She painted, cooked and lived life with passion."
Her life was like "one woman's battle against the whole world", and she won it beautifully, he says, explaining why Kahlo is loved all over the world.
Haghenbeck's novel is a biographical account of Kahlo's life and art. It has been translated into 16 languages and sold millions of copies all over the world.
The author borrowed from a fairytale prototype and adopted the narrative style of magic realism. In his novel, Kahlo should have died from the bus accident, but she made a deal with Death, her godmother, agreeing to sacrifice and suffer in exchange for life.
Every year on the same day, Kahlo would prepare elaborate food offerings to her godmother. Incorporated in the stories are recipes of dishes Kahlo cooked. They are either offerings to her godmother, or what she made for key moments and relationships.
All the recipes are really from Kahlo, Haghenbeck says. Haghenbeck's grandmother had a sister, who was a friend of Kahlo, and received these recipes from her.
Mexico features a union of different cultures. France colonized it in the 1850s, so the cuisine has a European touch and lots of Hispanic influences, too.
Haghenbeck's writing conveys the bright colors of Kahlo's art, the rich and spicy aroma of Mexican cooking, in addition to narrative on the artist's life in La Casa Azul, her home in Mexico, visits to the United States, involvement in the social revolution and interactions with contemporary artists and celebrities.
While reading the book, it is as if one can see the contrast of colors and vivid images, feel the heat of the Mexican sun and smell the scent of various herbs and peppers.
Haghenbeck, 48, has a degree in architecture and worked as a museum designer and television producer. His literary career started with comic book script writing. He used to write the scripts for the Superman franchise and is the only Mexican writer of a Superman title.
Haghenbeck then turned to serious writing and his first novel Bitter Drink was a detective story set in the 1960s. With cocktail recipes at the end of each chapter, the book became a bestseller in French, Spanish and English. The Secret Book of Frida Kahlo is his fifth novel.