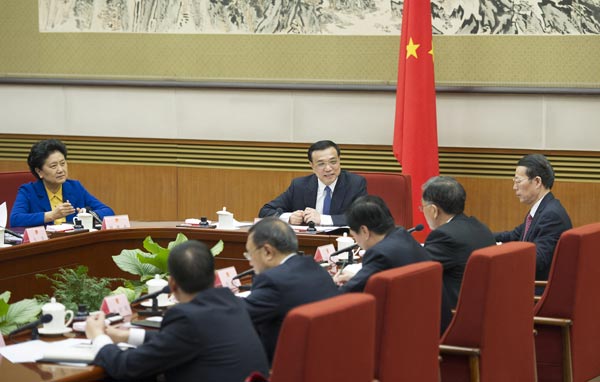 Premier Li Kieqiang speaks at a meeting of the State Council to discuss the annual government work report that it will submit for lawmakers' approval at the National People's Congress annual session in March.[Photo/Xinhua]
Priorities include maintaining growth and controlling inflation
Premier Li Keqiang has called on the nation to prepare to tackle some of the economy's worsening risks, providing China with a "good beginning" to 2014.
The "good beginning", he stressed, would require maintaining the desired growth momentum in the first quarter to avoid an unexpected slowdown.
The premier made the remarks at a meeting of the State Council to discuss the annual government work report that it will submit for lawmakers' approval at the National People's Congress annual session in March.
The report will propose the targets for GDP growth and inflation for 2014.
In 2013, China had a GDP growth rate of 7.7 percent year-on-year, as opposed to its target of 7.5 percent, while consumer inflation was kept at 2.6 percent, well under its target of 3.5 percent.
However, the premier warned: "We still face a grim situation at the start of 2014, which requires a serious effort to deliver the nation's sustainable, healthy economic and social development."
He called for accelerating the economy's structural reforms and promoting agricultural production while stabilizing prices.
Economists warned that consumer inflation pressure may increase after Lunar New Year because of the usually dry weather that has hit the nation.
Lian Ping, chief economist at the Bank of Communications, said that this year it will be difficult to keep the consumer price index, a main gauge of inflation, at its low 2013 level of 2.6 percent.
Ensuring sufficient food supply, especially in grain, is important to control consumer inflation, as food prices account for about 30 percent of the CPI, he said.
"The CPI is likely to rise 3 percent year-on-year in 2014," Lian said.