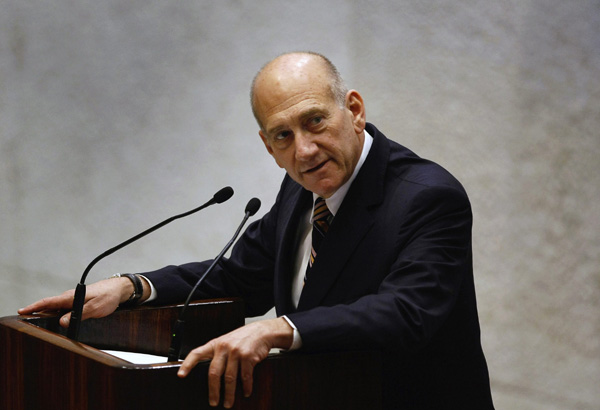 Israel's former Prime Minister Ehud Olmert addresses the parliament before a swearing-in ceremony for Benjamin Netanyahu's new government in Jerusalem in this March 31, 2009 file photo. [Photo/Agencies]
TEL AVIV - An Israeli court convicted former Prime Minister Ehud Olmert of bribery on Monday over his ties to a real-estate deal while in his previous post of Jerusalem mayor, likely ending any prospect of a political comeback.
Olmert, a centrist internationally credited with pursuing peace with the Palestinians, had denied wrongdoing in the Holyland apartment complex deal, and other corruption allegations that forced his resignation as premier in 2008.
In 2012, Olmert was acquitted of major charges in separate cases involving his links to a US businessman while he was Jerusalem mayor and an Israeli cabinet minister.
Judge David Rozen, handing down the conviction in Tel Aviv District Court, said the case "exposed governance that grew more corrupt and rotten over the years", with bribes paid to public officials.
Olmert was mayor of Jerusalem from 1993 to 2003, and prime minister from 2006 to 2009, staying in office in a caretaker capacity until after a general election that brought Benjamin Netanyahu to power.
As prime minister, Olmert waged war against militants in Lebanon in 2006 and the Gaza Strip in 2008. He said he had achieved significant progress in talks with the Palestinians aimed at securing a final peace deal, offering an Israeli withdrawal from much of the occupied West Bank.
But no agreement was reached.
He was among 13 defendants in the Holyland case, revolving around the construction of a hulking, hilltop housing project widely regarded as Jerusalem's worst eyesore.
One of the accused, Shula Zaken, was Olmert's former long-time aide who last week offered to turn state's witness against him.