When the FIFA World Cup kicks off in Brazil in June, China's Yingli Solar will join brands such as Budweiser, McDonald's and Johnson & Johnson - household names that usually sponsor international sporting events - and be the only Chinese and only renewable energy company sponsoring the games.
For Yingli, the world's largest solar panel manufacturer, this move is surely not just to put their name out there in the world's most widely watched sporting event. Like many Chinese firms, Yingli Solar, which established a Sao Paulo office in 2011, is one of many trying to tap into the renewable energy market in the Latin American region, where Chinese investment is on the rise.
Besides being a sponsor, the Baoding-based solar panel maker in late March announced that it will supply 1 megawatt (MW) of solar panels to Neoenergia Group, one of Brazil's largest energy companies. The panels will deliver clean electricity to Arena Pernambuco, the site of five World Cup games, where the Yingli logo will also appear.
This landmark project is expected to generate more than 1,500 MWh of electricity annually, which is equivalent to about 6,000 Brazilians' annual electricity consumption.
As Chinese investment in the Latin American region grows, the energy sector is emerging as a field that Chinese investors - solar companies in particular - can tap into and produce win-win results. Yingli's partnership formed last year with Renova Energia, a Sao Paulo-based wind energy company, is one example.
"There are big opportunities to develop factories and export components to Brazil," said Mathias Becker, CEO of Renova Energia on the sidelines of the Bloomberg New Energy Finance Summit last week in New York. "We just received the first panels from Yingli," said Becker. "What's really important for Chinese investors is to develop relationships with local players who understand the needs of the customers."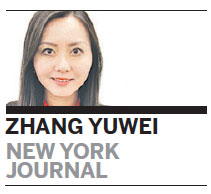 Two advantages Chinese investors should take note of when investing in the solar business in Brazil, said Becker, are financing from the Brazilian Development Bank (BNDES) and the good quality of silicon for the production of solar panels. "The whole supply chain has to be developed in Brazil," said Becker. "It will be extremely beneficial for Chinese investors and Brazil."
Jeffrey Barnett, vice-president of international sales of Yingli Green Energy Americas, said the company's goal is to help the maturation of Latin America's solar market by serving as a valuable resource to project developers.
"Because Yingli is committed to the success of the emerging Latin American market, we have invested in establishing local offices and operations, including local inventory in Brazil and Mexico, that simplify and expedite our customers' procurement processes," he said.