The Jingdezhen Ancient Kiln Folk Custom Expo Area, located at No 1 Guyao Road, Cidu Avenue of Jingdezhen, Jiangxi province, is a national 5A-level scenic spot. It's also a national demonstration base for the cultural industry, and for intangible cultural heritage production and protection.
With its convenient location, the Jingdezhen expo area is the preferred scenic spot for tourists who want to experience porcelain cultural tourism in Jingdezhen.
The expo area's application for the national 5A-level scenic spot started last May, and it's now the only 5A-level scenic spot in the country displaying porcelain culture to the whole world.
Zhu Hong, vice governor of Jiangxi province, said during the Jiangxi provincial tourism conference that "the Jingdezhen Ancient Kiln Folk Custom Expo Area is a dark horse in Jiangxi's tourism industry."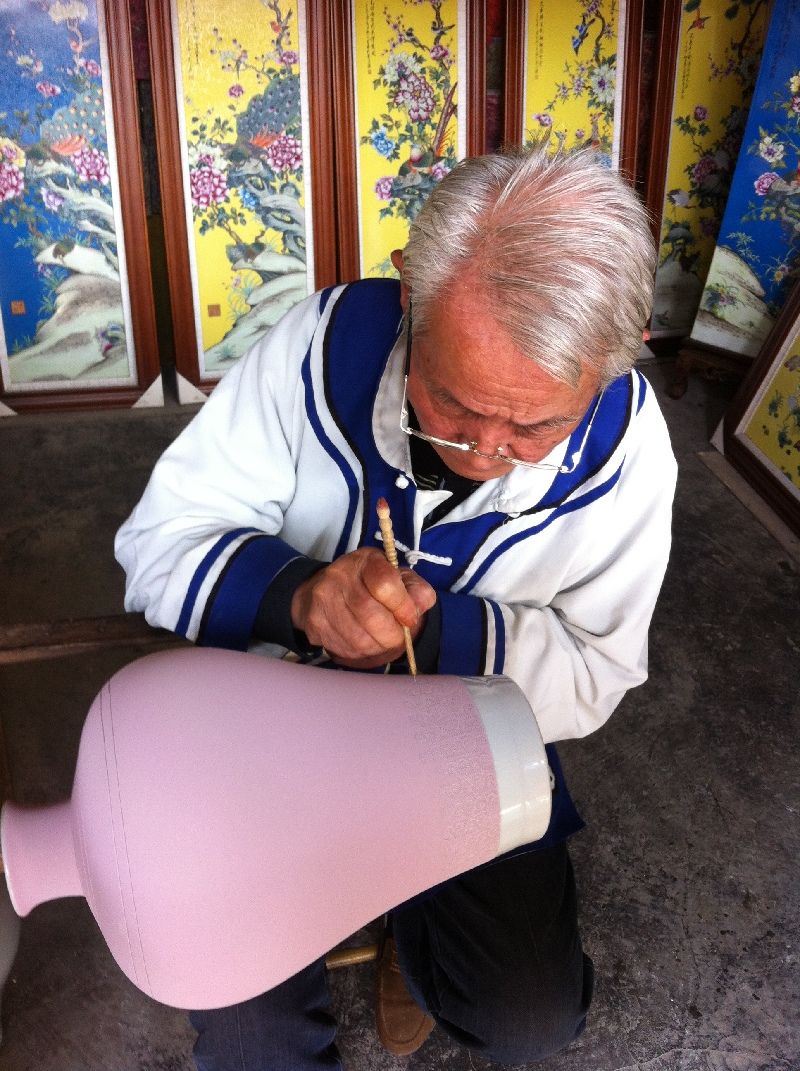 Ceramic artists carve decorative patterns on a semi-finished ceramic pot, in the Jingdezhen Ancient Kiln Folk Custom Expo Area, Jiangxi province.(Photo/Zhou Yunayuan)
The expo area is not only a special area to show the more than 1,000-year history of Jingdezhen's porcelain culture, but also an inheritance area for handmade porcelain craft. The combination of intangible cultural heritage culture and tourism industry is the biggest advantage for the expo area, where tourists can learn about the process of handmade porcelain in ancient times.
In the kiln expo area, there are porcelain workshops, the eldest porcelain production line in the world, Zhenyao kiln from the Qing Dynasty(1644-1911), Hulu Kiln from the Ming Dynasty(1368-1644), Mantou Kiln from the Yuan Dynasty(1271-1368), Longyao Kiln from the Song Dynasty(960-1279), and other scenic spots, showing the ancient porcelain industry, the handmade porcelain manufacturing process in Ming and Qing Dynasty, and traditional porcelain boutiques.
Chinese writer Guo Moruo once said: "The best porcelain in the world is in China, and China's best is in Jingdezhen." The ceramic industry has developed over a long time in Jingdezhen. During the Tang Dynasty, the technique started to mature. Jingdezhen became a major porcelain producer in the Song Dynasty. The kiln in the Yuan Dynasty boasted the highest porcelain-making techniques. Later, the Liangfu porcelain office was set up. Since the Ming Dynasty, it has been the center of the ceramic industry. In the Ming and Qing dynasties, when skills became perfected and the general quality more refined, governmental kilns were set up to cater exclusively to the royal families. Over time, the artists and craftsmen in Jingdezhen used their talent to create many masterpieces.
Jingdezhen porcelain has four special features: white like jade, bright as a mirror and thin as paper, and sounds like a bell. With its elegant form and technique, the art of Jingdezhen porcelain is a bright jade of the Chinese civilization.