Official pledges zero tolerance approach toward attacks against minors and sexual exploitation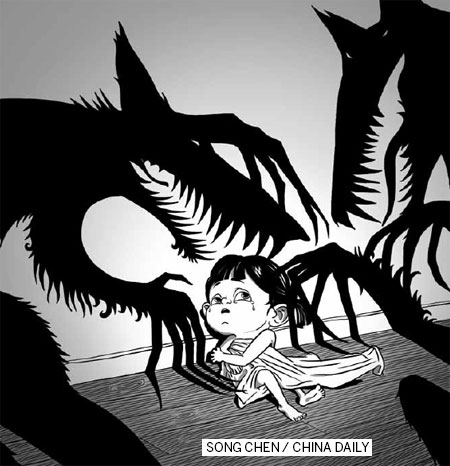 Prosecutors are to step up their efforts to tackle cases involving the sexual abuse of children, the Supreme People's Procuratorate said on Wednesday.
"We will adopt a zero tolerance approach to the sexual abuse of minors and attempts to force them to engage in prostitution," said Xiao Wei, a spokeswomen for the authority. "Once we obtain solid evidence we will immediately arrest and prosecute suspects."
Zhang Xiangjun, deputy director of the authority's prosecuting department, said national prosecutors will attach great importance to investigating misconduct by officials who fail to act over such offenses. In addition, legal aid and psychological counseling for minors will be improved.
"If we discover that government officers have detected such crimes but have not taken effective measures to stop them, and this results in minors dying or suffering severe injuries, they will be held criminally accountable," he said.
High-profile cases involving the sexual abuse of minors, abduction and forced prostitution have occurred nationwide in recent years.
According to the procuratorate, last year national prosecuting departments charged 3,239 suspects with sexually abusing minors, obscene behavior or luring young people into prostitution, a sharp increase compared with 2013.
From 2010 to 2013, national prosecutors charged more than 8,069 suspects with lewd behavior with minors in 7,963 cases, and prosecuted 255 people charged with sexually abusing young girls in 150 cases.
"A lack of awareness among minors, parental negligence and flawed safety management in schools and society have all contributed to the sexual abuse of minors," Zhang said.
Tong Lihua, director of the Beijing Children's Legal Aid and Research Center, said few Chinese parents are aware of the importance of sex education.
Primary and middle schools offer only health classes to minors rather than providing sex education, and most young victims do not know how to protect themselves.
"Due to the lack of sex education, some juveniles may not realize they have been sexually abused, and when such crimes occur they are often afraid to report them to the police," Tong added.
Shi Weizhong, a senior official at the prosecuting department, said in an earlier interview that most young victims of sex abuse are under 14 and come from the families of migrant workers or single-parent families.
Tong said: "The laws to protect minors were revised in 2004 and lag far behind the practical needs. The priority is to have up-to-date laws to protect minors' rights. The judicial authorities and the civil affairs, education and healthcare sectors will then have clearly defined tasks and be able to work closely to fight such crimes."