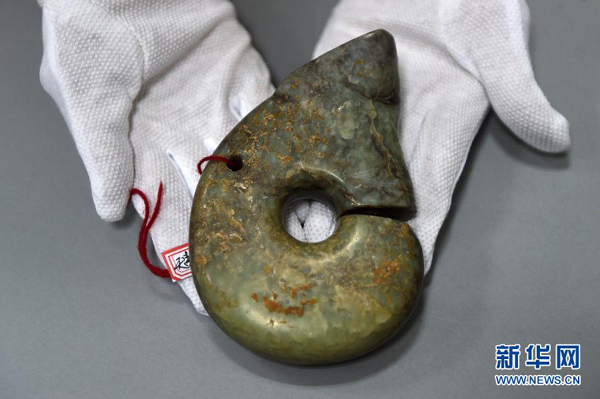 The recovered artifacts: a coiled jade dragon.[Photo/xinhuanet.com.cn]
More than 170 tomb raiders have been arrested and 1,168 cultural relics recovered in an operation, said the Ministry of Public Security on Tuesday.
Described as the biggest swoop of its kind since the People's Republic of China was founded in 1949, the ministry valued the looted artifacts at more than 500 million yuan ($80 million).
The tomb raiders are suspected of illegal excavations in Niuheliang, a Neolithic site in northeastern Liaoning province. Their activities have seriously damaged the site, said the ministry.
The recovered artifacts include a coiled jade dragon, one of the earliest known representations of the Chinese totem.
Police said the 175 tomb raiders, who belong to 10 gangs, had a clear division of labor covering the whole process from excavation to sales. More than 1,000 police officers participated in the operation.
Archeologists involved in the case
Four archeologists are suspected of participating in the tomb raid and selling the stolen artifacts.
An accused, surnamed Deng, an artisan at an archaeological institute in Northeast China's Liaoning province, allegedly stole a coiled jade dragon at a salvage excavation site in Sept 2010 and sold for 3.2 million yuan ($515,840) in 2012.
Illegal artifacts trading at excavation site
Artifacts dealers, who have certificates or run shops, help the artifacts excavation and sales by doing real-time business at the excavation sites.
An artifacts shop owner, surnamed Li, was engaged in illegal artifacts trading with the title of "president of the cultural industry fair association of Cazuo county in Liaoning province". He visited the excavation sites and offered money ranging from 10,000 to millions of yuan for the artifacts as they were excavated.
"Artifacts are sold at a fast speed and traded frequently in a short time," said Cai Binghui, a police officer who investigated the case.