Ancient tomb unearthed in N China shows affluence of Tang Dynasty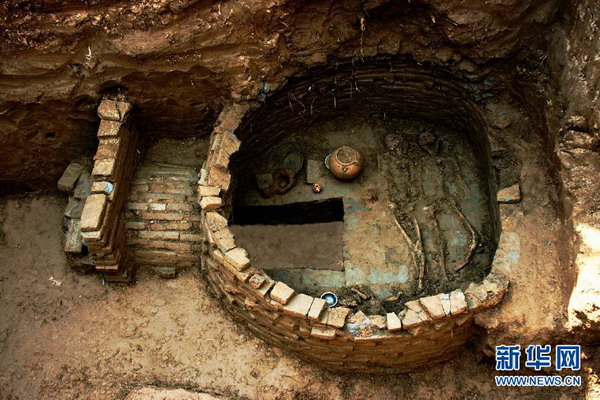 An ancient tomb from China's Tang Dynasty (618-907) has recently been discovered in Xian county in Cangzhou, North China's Hebei province. [Photo/Xinhua]
An ancient tomb from China's Tang Dynasty (618-907) has recently been discovered in Xian county in Cangzhou, North China's Hebei province.
The tomb, in which one male and two females were buried, goes two meters below the ground surface. It is constructed of bricks and consists of a stairway, a door, a corridor and a circular chamber.
According to Zheng Zhili, a staff member of Cangzhou's Bureau of Cultural Relics, the artifacts found in the tomb - including a tri-colored pot, a white porcelain bowl, a grey pottery plate and a black glazed lamp - reflect the affluence enjoyed by the people living in the Tang Dynasty.