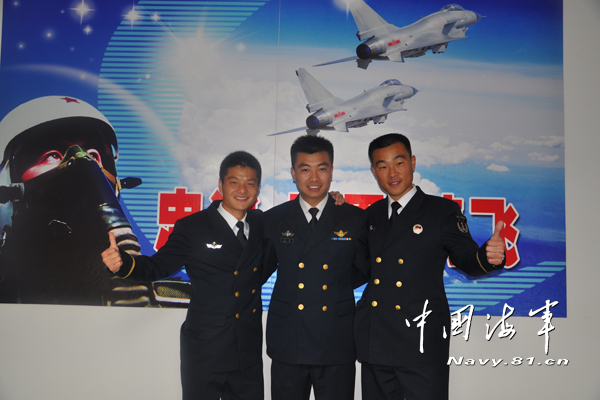 Jiang Tao, centre, with two other pilots. [Photo/navy.81.cn]
Two heroic navy pilots died avoiding a heavily populated area after their plane failed earlier this month in Northeast China's Liaoning province, the Navy said Tuesday.
The pair, Jiang Tao and Lu Pengfei, were on a May 13 training flight when their aircraft caught fire and suffered a rapid loss of power. As the plane was already near the airport and would have caused severe damage in the crowded area, they made a U-turn to a wood where they died in the crash.
Data from the flight recorder showed they took a series of evasive measures after the plane caught fire to avoid it falling in the built-up area. It was only 17 seconds before the aircraft crashed.
There was not enough time or sufficient height for the two pilots to parachute from the aircraft, according to the Chinese Navy.
"These actions are dangerous even during normal flights, from which we can see how determined they were to avoid the populous areas," Cui Haibo, an assistant regimental commander said.
Jiang, 27, joined the army in 2006. Lu was only 22 this year. He joined in 2011.
The two were honored as revolutionary martyrs and have been buried in their hometowns.