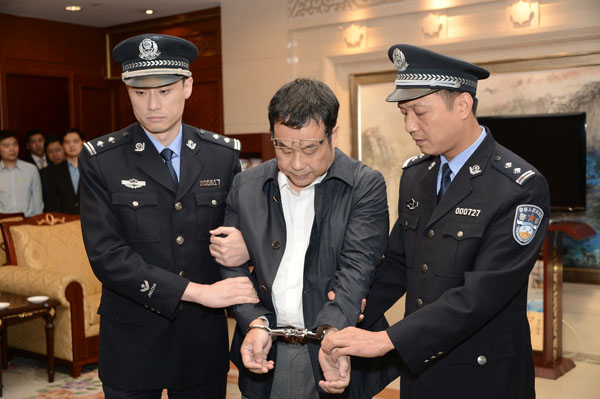 Policemen escorts Li Huabo, the second suspect from China's "100 most wanted economic fugitives" list, after he was repatriated from Singapore on May 9, 2015, as part of operation "Sky Net". [Photo/ccdi.gov]
Canada will help China to repatriate corrupt officials who have fled there and confiscate their assets, the North American country's top envoy has said.
"Canada has had very close collaboration with the Chinese government to address such issues," Canadian Ambassador Guy Saint-Jacques said in an exclusive interview. "We have no desire to harbor fugitives, and we don't want to be known as welcoming fugitives."
He said China and Canada will sign an agreement to share the assets that Chinese fugitives transfer illegally to Canada. Negotiations have been completed and the agreement should be finalized in the next few months, he said.
"It will provide a legal basis for Canada to share the proceeds of forfeited assets with China, once we identify the transferred illegal money belongs to criminals or criminal organizations."
In recent years, Canada and the United States have been seen as favorite destinations for corrupt Chinese officials because of the lack of extradition treaties and difficulties caused by differences between legal systems.
Corrupt officials have transferred billions of yuan to foreign accounts through money laundering networks and underground banks.
Saint-Jacques said a number of high-profile fugitives have been sent back to China from Canada including Lai Changxing, who was found guilty of operating a huge smuggling ring. He was repatriated in 2011 after spending 14 years on the run in Canada.
Judicial cooperation between China and Canada has made great progress and the Canadian judicial authorities are helping Chinese police to arrest fugitives and repatriate them, the ambassador said.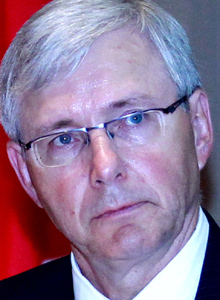 CHINA DAILY
Guy Saint-Jacques, Canadian ambassador to China
Since 2009, Canada has sent 1,400 Chinese home, including 75 who were repatriated on suspicion of being involved in criminal activities such as drug trafficking, fraud and gambling. The other cases mainly involved illegal immigration, he said.
"Once we have identified that they are fugitives, we will launch an investigation as soon as we have solid evidence. Then we will contact the Canadian Ministry of Justice to start legal proceedings against them and remove them," he said.
Liao Jinrong, director of the Chinese Ministry of Public Security's International Cooperation Bureau, said in an earlier interview that Canada has taken measures to cooperate with China on hunting down fugitives.
"They attach great importance to the intelligence the Chinese police give them and cooperate closely with us over the investigation of cases, arrests of suspects and repatriation work," Liao said.
Saint-Jacques said Canada maintains very high standards in its immigration program. The authorities take action immediately when they learn someone has entered the country with a false visa.
He said liaison officers at the embassy and the Canada Border Service Agency work closely with the ministry and Chinese airlines to curb the flow of illegal immigrants, while providing training to airlines on the identification of false visas and preventing criminals from boarding planes.
These measures have greatly reduced the number of people who try to enter Canada illegally by air.
In 2010, the ministry signed a bilateral agreement covering judicial assistance on criminal matters with Canada to fight cross-border crime.
Huang Feng, a law professor at Beijing Normal University who specializes in extradition issues, said the confiscation and sharing of seized assets between China and Canada would be consistent with international practice.
"Signing such an agreement will facilitate the return of funds illegally sent to Canada by Chinese fugitives and help to combat such crimes," Huang said.
Contact the writer at xiechuanjiao@chinadaily.com.cn
Li Jiayi contributed to this story.
Canada investigating property developer believed to be runaway
Canada has opened an investigation into Cheng Muyang, a Vancouver property developer identified as a high-profile economic fugitive wanted by Chinese authorities, Canadian Ambassador to China Guy Saint-Jacques said.
Canada has received a list of Chinese fugitives who are believed to have fled there, and the country is working closely with its Chinese counterparts to investigate each case.
"If we obtain enough evidence to identify they are the fugitives, our judicial authority will immediately start the procedures to arrest them and return them to China in accordance with the laws," Saint-Jacques said.
Michael Ching Mo Yeung, president and CEO at Mo Yeung International Enterprises, has been recognized as Cheng Muyang, who is accused of concealing or transferring illegal gains and is sought by Shijiangzhuang Qiaoxi district people's procuratorate in North China's Hebei province, according to a South China Morning Post report.
Cheng, 45, is the son of Cheng Weigao, a former Party chief in Hebei who was investigated on suspicion of corruption in 2003 and was expelled from the Party before he died in 2013.