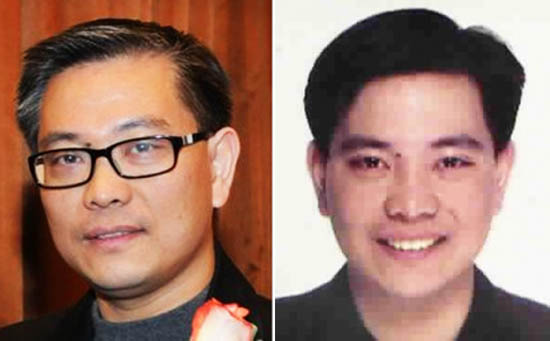 Michael Ching Mo Yeung (left), pictured in 2011, and the image of Cheng Muyang that accompanies an Interpol Red Notice seeking his arrest. [Photo/SCMP]
A prominent property developer in Vancouver, Canada, has been identified as a high-profile Chinese economic fugitive wanted by the Interpol, the South China Morning Post (SCMP) reported Wednesday.
Michael Ching Mo Yeung, the president and CEO of Mo Yeung International Enterprise, is the same man as Cheng Muyang, who is sought by the People's Procuratorate of Qiaoxi district in Shijiazhuang, North China's Hebei province, for graft and concealing and transferring illegal gains, the newspaper said.
He is on the list of 100 most wanted Chinese economic fugitives issued by Interpol worldwide last week.
China recently launched a "Sky Net" campaign to bring back corruption suspects amid the country's intensifying anti-graft corruption.
Cheng, 45, is the son of Cheng Weigao, former Communist Party chief of Hebei. The elder Chen was investigated and expelled from the Party for corruption in 2003 before died in 2013.
The son was named by the Central Commission for Discipline Inspection (CCDI), China's top graft watchdog, in its investigation report against Cheng Weigao, according to SCMP.
The father abused power to help his son grab money and caused huge losses to the state, the report said.
Cheng Muyang fled to Canada through Hong Kong in 2000 and applied in 2001 and 2004 for citizenship, but "was kept in the dark with respect to his application" and withdrew his application in 2009, the Vancouver Courier reported.
Cheng also has hired human rights lawyer David Matas in seeking refugee status in Canada.
Matas once represented Chinese fugitive businessman Lai Changxing, who fled to Canada to avoid charges but was returned to China in 2011 and is now serving a life sentence.