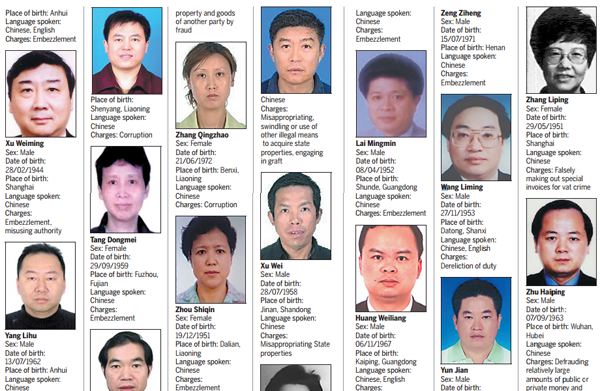 Some of the 100 most-wanted corrupt Chinese officials who have fled overseas. Please click here for a full list of the 100 fugitives. [Photo/China Daily]
The global arrest warrants issued by the China National Central Bureau of Interpol for the 100 most-wanted corrupt Chinese officials who have fled overseas shows the Chinese leadership's resolve to continue cracking down on corruption.
The red arrest warrants, which are Interpol's highest-level order for arrest, include a personal profile, ID number, date of birth and date of fleeing. They will help Interpol's 190 members work together to bring the fugitives to justice.
This is the first time the China National Central Bureau has made public such kind of arrest warrants for so many corrupt officials. The move not only highlights the Chinese government's efforts to catch suspects that have fled overseas, it also serves as warning to any corrupt officials who may be planning to flee abroad.
We need to address some of the means by which corrupt officials have been able to successfully escape overseas. For example, the multiple passports possessed by a quarter of the 100 officials at large highlight the need for relevant departments to strengthen their passport issuance procedures and take effective measures to plug any loopholes.
The United States and Canada are the two most popular destinations for corrupt officials to run to, but they have not yet signed an extradition treaty with China. Thus, how to get the necessary cooperation from both countries to extradite wanted fugitives to China remains an urgent legal challenge.
That as many as 48 of the 100 most-wanted corrupt officials acted as the head of their respective work units also underscores the efforts yet to make to supervise and rein in the power in the hands of some leading officials. While strengthening international cooperation to catch corrupt officials, domestic efforts needs to be strengthened against corruption.
The above is an abridgement of a China Youth Daily article published on Friday