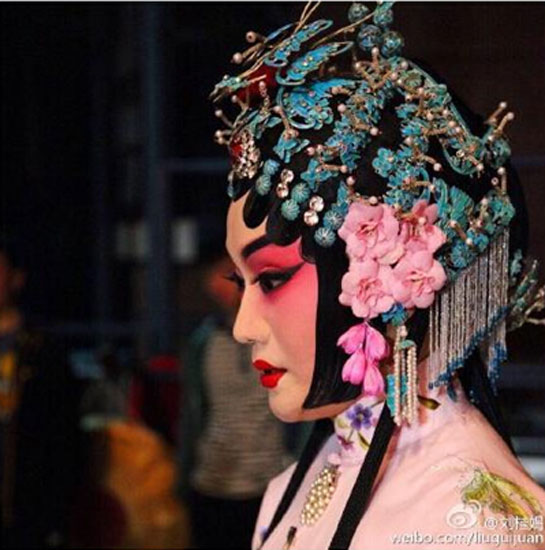 The headdress Liu Guijuan posted on her Weibo account which she said is made out of the feathers of 80 kingfishers and worth 120, 000 yuan ($19,400).[Photo/ Sina Weibo]
Liu Guijuan, a Peking opera actress from Tianjin and a member of the Chinese People's Political Consultative Conference Tianjin Committee, recently showed off headwear made of the feathers taken from about 80 live kingfishers, most of which subsequently died.. Comments:
The days when people could cruelly use animal products, such as ivory, tiger bones and bear galls, without censure are gone. Today there are artificial substitutes that can be used; this is progress. To take feathers from live birds, killing most of them in the process, is evil; let's give it up.
Zhao Zhongxiang, a domestic TV anchor, via a Sina micro blog April 25
To care for animals and nature is a modern value accepted by an increasing number of people. However, some activists are so pure about their beliefs that they will scold or attack any with different opinions. They might not realize, but that's a violation of people's rights. What is needed is a public consensus on animal protection, not extremism.
cjn.cn, April 25
It is not the actress' owning and using the headwear but her lack of concern for the lives of kingfishers that has aroused so much criticism. Especially since she is a CPPCC member and public figure; that's why the public has higher requirements for what she says and does.
Beijing News, April 25
The headwear made of kingfisher feathers can easily be replaced by artificial substitutes; in terms of animal welfare, it is certainly cruel to pluck the feathers from these live birds. Such decorations might encourage the illegal capturing and trade in kingfishers or other innocent wild animals. So such headwear should never be encouraged.
guokr.com, April 24