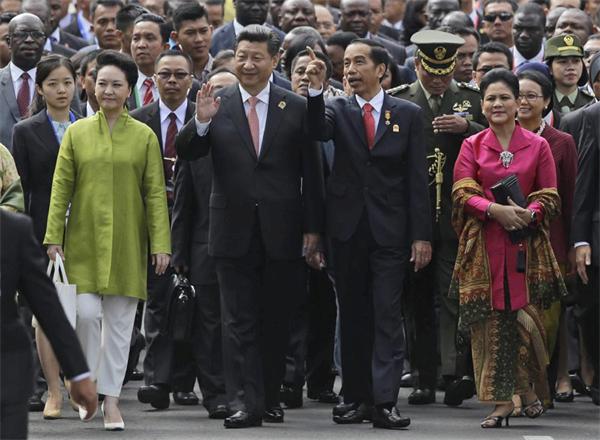 Chinese President Xi Jinping (2nd L) his wife Peng Liyuan (L) walk with Indonesian President Joko Widodo (2nd R) and his wife Iriana (R) as they lead the re-enactment of the historic walk from 1955 along Asia Africa Street in Bandung, West Java, at the conclusion of the Asian-African Summit, April 24, 2015. [Photo/Agencies]
A historic Friday walk in which many Asian and African leaders took part in Bandung, Indonesia, completed the commemoration of the 60th anniversary of the 1955 Asian-African Conference in the city. Floating a three-point proposal at the just concluded Asian-African Summit, Chinese President Xi Jinping released a clear signal that China will keep carrying forward the time-honored Bandung Spirit in a steady and effective manner.
Xi's three-point proposal comprised boosting Asia-Africa cooperation, expanding South-South cooperation and promoting South-North cooperation, which were also highlighted in his short but effective visit to Pakistan from April 20 to 21.
Being the first leg of Xi's first overseas trip this year, Pakistan witnessed an unprecedented lift in its relationship with China to an "all-weather strategic cooperative partnership".
Notably, Xi made the most of his less than 40 hours in the South Asian neighbor, meeting most of its major leaders and many civil groups, and wrapping up the signing of 51 agreements and memorandums of understanding worth $46 billion between China and Pakistan.
Of the whole enormous package offered by Beijing, more than 30 agreements are designed to boost the China-Pakistan Economic Corridor, which connects Kashgar in China's Xinjiang Uygur autonomous region to Pakistan's Gwadar Port on the Arabian Sea. Both countries are expected to cooperate on gas, coal and solar energy projects as well.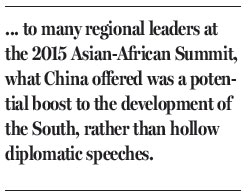 Looking at the broader picture, it is not just commercial investments, but greater regional economic integration that China truly pursues in its Asia-Africa policy. Few could imagine that the almost inseparable China-Pakistan relationship could be taken to an even higher level, in which both countries will strategically coordinate to serve each other's core interests and respect the other's stance regarding international affairs.
In other words, this is a non-aligned partnership where the two are simultaneously independent and bonded in pursuit of shared interests and strategic geopolitical security. Such a partnership can be stronger than the typical alliances between the United States and its friends such as the United Kingdom and Canada, thus serving as a milestone in China's foreign relations.
More importantly, to many regional leaders at the 2015 Asian-African Summit, what China offered was a potential boost to the development of the South, rather than hollow diplomatic speeches.
Meeting Xi in Jakarta, the Indonesian President Joko Widodo welcomed the Chinese president's proposal to increase investment in Indonesia's infrastructure, and he witnessed the signing of cooperation documents on high-speed rail project afterwards. The Zimbabwean President Robert Mugabe on Friday also hailed the Beijing-initiated Asian Infrastructure Investment Bank, which has attracted 57 countries to join as founding members as "the voice of the South".
In addition, Xi pledged on Wednesday that China will grant the least developed countries with which it has diplomatic ties duty free privileges on 97 percent of imported products within the year, and cooperate with all parties concerned to implement the Silk Road Economic Belt and 21st Century Maritime Silk Road Belt and the Asian Infrastructure Investment Bank.
It shows they have hopes for, and support, Beijing's economic leadership in the region, and that China, the world's second-largest economy which contributes one-fifth of Asia's economic growth, is taking steps to shoulder its responsibilities as a world power.
At the request of the Japanese side Xi met with Japanese Prime Minister Shinzo Abe on the sidelines of the summit. Xi spared half an hour during the busy summit to meet with Abe, to whom he said both countries should take "active policies toward each other". Without censuring the Abe administration on specific issues, Xi urged Japan to face up to historical issues and even welcomed it being part of the AIIB.
With such diplomatic moves, China indeed is becoming a major power that always looks at the bigger picture of geopolitics.
The author is president of blshe.com and an expert in international relations studies.