Xi says increasingly confident in China-Pakistan ties
Updated: 2015-04-21 21:53
(Xinhua)
Comments
Print
Mail
Large
Medium
Small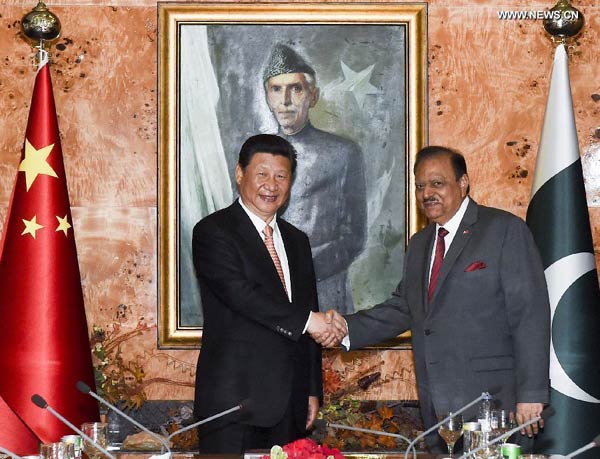 Chinese President Xi Jinping (L) shakes hands with Pakistani President Mamnoon Hussain in Islamabad, Pakistan, April 21, 2015. [Photo/Xinhua]
ISLAMABAD - Chinese President Xi Jinping said here Tuesday that his state visit to Pakistan has led him to become ever more confident in the future of China-Pakistan relations.
Xi voiced his confidence in a meeting with Pakistani President Mamnoon Hussain, during which he recalled his fruitful talks with Pakistani Prime Minister Nawaz Sharif and extensive contact with Pakistanis from different walks of life.
Noting that the visit, aimed at consolidating bilateral friendship and boosting practical cooperation for the benefit of both peoples, has borne rich fruit, Xi said his confidence in the China-Pakistan partnership has grown ever stronger.
He stressed the importance of regular high-level visits, and called for the formulation of a strategic framework for bilateral practical cooperation, with the China-Pakistan Economic Corridor (CPEC) at the center, and the Gwadar Port, energy, transport infrastructure and industrial cooperation as the four key areas.
Speaking highly of Pakistan's good-neighborly foreign policy, the Chinese president said his country supports the Pakistani side improving its relations with neighboring countries, and stands ready to strengthen collaboration and cooperation with Pakistan in maintaining regional peace and stability.
For his part, Hussain pledged staunch support for Beijing's stances on issues concerning its core interests and for China's efforts to safeguard national security and fight terrorism.
Referring to the CPEC as an important milestone in regional development, Hussain said the Pakistanis are willing to work together with China to advance relevant projects.
Xi and Hussain also exchanged views on the Afghanistan and Yemen issues.
After their meeting, the Pakistani president conferred on Xi the Nishan-e-Pakistan, the country's highest award for foreign leaders. Xi said the medal embodies the friendly feelings the Pakistani people have toward the Chinese.
On the same day, Xi also met with Pakistani Senate Chairman Mian Raza Rabbani and National Assembly Speaker Sardar Ayaz Sadiq.
Xi urged the two countries' legislatures to boost exchange and cooperation, saying that the Pakistani Senate and National Assembly are a firm defender and active promoter of China-Pakistan relations.
For their parts, Rabbani and Sadiq described the friendly relations with China as a cornerstone of Pakistan's foreign policy, noting that the relationship enjoys strong public support.
The CPEC benefits not only the two peoples, but also the surrounding region as a whole, and it will inject impetus to the Belt and Road initiatives, they said.
The Pakistani Senate and National Assembly are ready to further promote exchange between the two countries' legislatures and enhance mutual understanding and trust, they added.
Schedule
Chinese President Xi Jinping will visit Pakistan and attend the Asian-African Summit and activities commemorating the 60th anniversary of the Bandung Conference in Indonesia from April 20 to 24.

April 22
Attend the opening ceremony of the Asian-African Summit;
Meeting with Indonesian President Joko Widodo;

April 23
Bilateral meetings;
Attend the closing ceremony of the Asian-African Summit;

April 24
Historical walk from Savoy Homann Hotel to Gedung Merdeka;
Attend activities commemorating the 60th anniversary of the Bandung Conference;