China-Pakistan: Ties that bind
Updated: 2015-04-21 15:13
(chinadaily.com.cn)
Comments
Print
Mail
Large
Medium
Small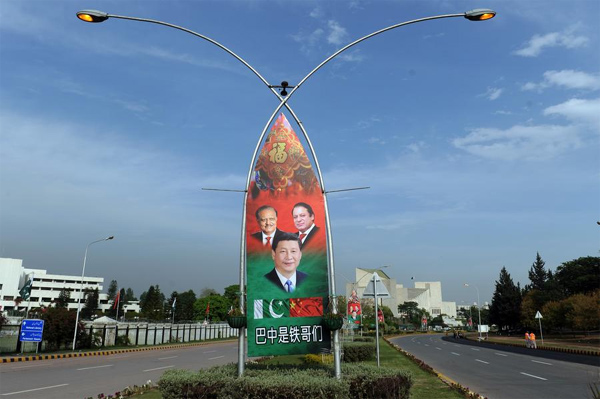 A banner shows Pakistan's President Mamnoon Hussain (L), President Xi Jinping (C) and Pakistan's Prime Minister Nawaz Sharif, with the words "Pakistan and China are iron brothers" on it, ahead of Xi's visit to Islamabad, the capital of Pakistan, April 18, 2015. [Photo/Xinhua]
Pakistan rendered tremendous support to China at critical moments in the last century when China sought to break the external blockade, restore its lawful seat at the United Nations and realize the normalization of ties with the United States.
Since the establishment of diplomatic ties between the two countries in 1951, the bilateral relations have been cultivated by the leaders of the two countries and applauded by the two peoples. The China-Pakistan friendship has withstood the test of the changes of the times and international politics, and has become a fine example of friendly state-to-state interactions.
Important events in the timeline of China-Pakistan relations:
May 21, 1951
The two countries officially established their diplomatic relations.
October 1956
At the invitation of the Chinese government, Pakistani Prime Minister Sulawadi paid an official visit to China. In December the same year, Premier Zhou Enlai visited Pakistan.
The successful exchange of visits between the Pakistani prime minister and Chinese Premier within one year greatly promoted the development of friendly relations and cooperation between the two countries and strengthened the friendship between the two peoples.
March 1963
The two countries signed a boundary agreement on China's Xinjiang and the adjacent areas whose defence was under the actual control of Pakistan.
From 1965 to 1971
Pakistan supported the restoration of China's legitimate rights in the United Nations as a sponsor country.
1971
Premier Zhou Enlai sent a talk invitation to the United States via Pakistani President Yahay Khan. With the help of Yahay Khan, Henry Kissinger visited China in July, opening the curtain of China-US relations.
2004
A road to the embassy district in Islamabad was named Zhou-Enlai Avenue, the first road in Pakistan named after a foreign leader.
May 2008
Pakistan extended a helping hand to China by providing over 22,000 tents, the entire strategic reserve of Pakistan, and two of their four transport aircrafts, after a devastating earthquake jolted Wenchuan, China's southwestern Sichuan province.
February 2014
Pakistani President Mamnoon Hussain made China the destination of his first official visit after taking office.
Schedule
Chinese President Xi Jinping will visit Pakistan and attend the Asian-African Summit and activities commemorating the 60th anniversary of the Bandung Conference in Indonesia from April 20 to 24.

April 22
Attend the opening ceremony of the Asian-African Summit;
Meeting with Indonesian President Joko Widodo;

April 23
Bilateral meetings;
Attend the closing ceremony of the Asian-African Summit;

April 24
Historical walk from Savoy Homann Hotel to Gedung Merdeka;
Attend activities commemorating the 60th anniversary of the Bandung Conference;