Xi plants 'Pakistan-China Friendship Tree' at Pakistan's PM House
Updated: 2015-04-21 10:12
(Xinhua)
Comments
Print
Mail
Large
Medium
Small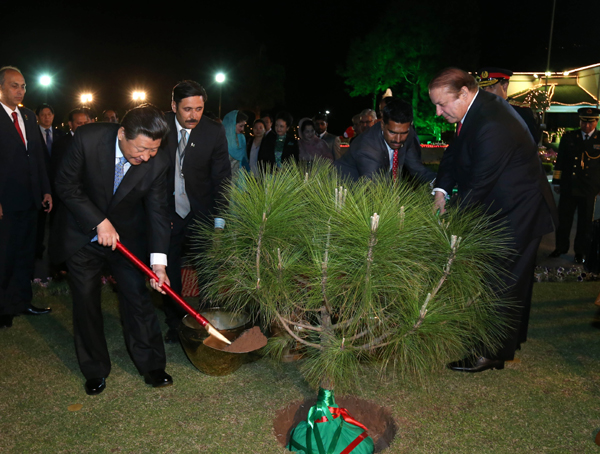 Chinese President Xi Jinping (front L) plants "China-Pakistan Friendship Tree" with Pakistani Prime Minister Nawaz Sharif at the lawn of the Prime Minister House in Islamabad, capital of Pakistan, April 20,2015. [Photo/Xinhua]
ISLAMABAD - Chinese President Xi Jinping on Monday planted "China-Pakistan Friendship Tree" with Pakistani Prime Minister Nawaz Sharif at the lawn of the Prime Minister House in Islamabad, capital of Pakistan.
Xi pointed out that this is a symbol of friendship between China and Pakistan, saying that the friendship between the two countries will last forever as the pines.
"Over the years, thanks to the nurturing of generations of leaders and people from all sectors of both countries, the China-Pakistan friendship has flourished like a tree growing tall and strong," Xi said in a signed article published Sunday by Pakistani press on the eve of his visit.
Xi arrived in Islamabad Monday for his first state visit to Pakistan, a South Asian neighbor that Beijing has long described as an "iron friend".
Schedule
Chinese President Xi Jinping will visit Pakistan and attend the Asian-African Summit and activities commemorating the 60th anniversary of the Bandung Conference in Indonesia from April 20 to 24.

April 22
Attend the opening ceremony of the Asian-African Summit;
Meeting with Indonesian President Joko Widodo;

April 23
Bilateral meetings;
Attend the closing ceremony of the Asian-African Summit;

April 24
Historical walk from Savoy Homann Hotel to Gedung Merdeka;
Attend activities commemorating the 60th anniversary of the Bandung Conference;