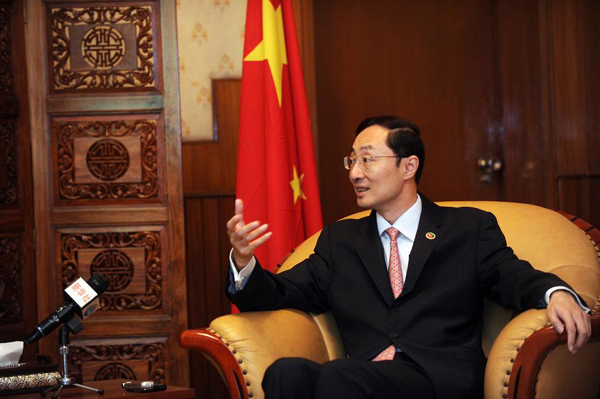 Chinese Ambassador Sun Weidong gets interviewed in Islamabad, Pakistan, April 18, 2015. [Photo/Xinhua]
ISLAMABAD -- Chinese President Xi Jinping's upcoming visit to Pakistan will map out strategic arrangements and a long-term plan for the future development of China-Pakistan relations, lift their strategic cooperative partnership and give an impetus to their ties, Chinese Ambassador Sun Weidong said.
President Xi will pay a state visit to Pakistan on Monday at the invitation of Pakistani President Mamnoon Hussain and Prime Minister Nawaz Sharif. The two-day visit will be his first trip to the South Asian country since he assumed the presidency in 2013.
Sun said since the establishment of diplomatic ties between the two countries in 1951, the bilateral relations have been cultivated by the leaders of the two countries and applauded by the two peoples, and the China-Pakistan friendship has withstood the test of the changes of the times and international politics, and has become a fine example of friendly state-to-state interactions.
The Chinese have invented a unique name "Iron Pak" for Pakistan, a vivid description for the special, friendly and unshakable ties between the two countries, the Chinese ambassador told Xinhua in an interview.
Upholding moral principles, mutual respect and standing together in times of need, among others, have contributed to the " Iron brotherhood" between the two countries, he summarized.
Both China and Pakistan regard the Five Principles of Peaceful Coexistence as the basic norms governing the state-to-state relations, uphold fairness and justice in international affairs and maintain the common interests of developing countries, the ambassador said.
"Pakistan has firmly supported China in its core interests such as the issues of Taiwan, Tibet and Xinjiang, and China, for its part, has consistently supported Pakistan in safeguarding independence, sovereignty, territorial integrity and defending national dignity, and provided sincere and selfless assistance to Pakistan in achieving economic development and social stability."
China and Pakistan have always respected each other, treated each other with all sincerity and shared the same feeling in the development of bilateral ties, Sun said.
"The two sides have always conducted close consultations and communications, tried their best to put themselves in the other's shoes and never foisted one's will on the other side in the cooperation."