While meteorologists and skiers debate about Beijing being a wintery enough city to host the Winter Olympics, a storm of a different kind has been brewing on the Internet over one of the official anthems Beijing commissioned for the games.
It's called The Ice and Snow Dance and critics say it bears too close a resemblance to a song called Let It Go from the Disney movie Frozen.
Thanks to the Internet, the two musical numbers can be juxtaposed and readily compared and thanks to websites like Facebook, the commentary has been flowing like an avalanche.
"I just played this while my 6-year-old was in the room and she ran over shouting 'Frozen!!! This is Frozen....errrr... is thisFrozen? I don't understand it but it's Frozen!'" Tanith Diggory wrote on Facebook
"Disney called… They want their song back," quipped Daniel Pearl.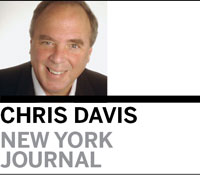 The accusation was first made in a web story posted by the Chinese business magazine Caijing, complete with a chart showing that what they erroneously call "the prelude" sections share the same "tune, length, tempo and instruments."
In fact, the songs share many similarities. In their verse (not prelude) sections, both harmonic progressions (at the risk of getting too "inside baseball" here) go from the minor VI to the major IV, a chord change used in many pop hits, from Bob Dylan's All Along the Watchtower to Peter Gabriel's In Your Eyes. One could even make the argument that the Let It Go song from Frozen is a rip-off of One Republic's big hit Too Late to Apologize, which again used the same chords to great advantage.
The Disney song has a bridge to the chorus; the Chinese Olympic song does not.
As for the chorus, or refrain, sections of both songs, a common I-V-VI (or IV)-V progression is used that is as common in pop music as fireworks on the 4th of July. Based on a descending bass line (Do-Ti-La-Sol… etc), it's a progression that was perhaps made most popular (and apparent) by Procol Harum's classic hit from the '60s A Whiter Shade of Pale, which itself was unapologetically lifted from the Second Movement of Johann Sebastian Bach's Orchestral Suite No 3 in D major (BWV 1068)", nicknamed Air on the G String, incidentally one of the first works of Bach ever recorded (in 1902) and played and replayed for centuries now.
There is something inherently catchy and satisfying about the descending bass line, possibly because within a few measures all of the available notes of the scale are presented, and too many hit pop songs use it to even begin to try and list them. Annie Lenox's No More I Love Yous, Billy Joel's Piano Man, the Beatles' Penny Lane and For No One, Jerry Jeff Walker's Mr. Bojangles, the list goes on and on. Did they steal from each other or were they just using the same tool out of music's toolbox?
Maybe one Wo Shi Ni hit the nail on the head, commenting on the Chinese song online: "Let's not say it is a copy, but an adaptation instead."
It's the nature of rock 'n' roll and pop music to borrow, quote, imitate and mimic. Ask any rocker about the first three chords they learned and how they enabled them to play, right off the bat (take your pick): Richie Valens' La Bamba, the Rascals' Good Lovin', the Rolling Stones' Get Off of My Cloud. In fact, Bob Dylan once famously said that his Like a Rolling Stone started out as his La Bamba song. The Beatles called their Back in the USSR their "Beach Boys song". They weren't stealing, they were saluting.
The Chinese ballade was composed by Zhao Zhao, a pianist born in Changsha, who has apparently been laying low through the controversy.
Some online commentators have come to his defense. One wrote on YouTube not to "accuse others of plagiarism without having any proof." Another said: "What counts as plagiarism? Music is all made up of notes such as do, re, mi, fa, sol, la, ti. Does that count as plagiarism?" the Guardian reported.
YouTube has posted several "mash-up" videos of the two songs — overlaying or editing in elements of each to create a new song. In some of them, the voices of Idina Menzel (the voice of the Disney character) and Chinese singers Sun Nan and Tan Jing harmonize pleasantly. Maybe they should get together in the studio.
Remember Oscar Wilde's immortal words: "Talent borrows, genius steals."
Contact the writer at chrisdavis@chinadailyusa.com.