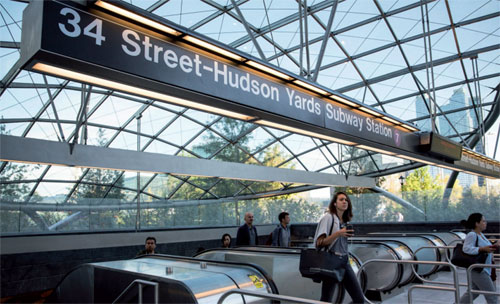 Riders emerge from the new subway station at 34th Street and 11th Avenue in Manhattan on Monday. Provided to China Daily
The Far West Side extension of the New York subway system's No. 7 line could become an economic bonanza for people who live along the line, including its eastern terminus in Flushing, Queens.
"This extension connects the extraordinary development happening here (on the far West Side) - a whole new city being created within our city - connects it with thousands of jobs in neighborhoods like Flushing and in central Queens, bringing people from those neighborhoods to the jobs here," New York Mayor Bill de Blasio said at a dedication ceremony for the Metropolitan Transit Authority's new Hudson Yards station at 34th Street and 11th Avenue in Manhattan on Sunday.
Until Sunday, the 7 train's westernmost stop was at 42nd Street and Times Square. Anyone wanting to head farther west could either hoof it on the exceptionally long blocks between avenues or take a time-consuming crosstown bus. Those are factors that come into play when someone is considering how long it takes them to get to a job and how far they'll feel like walking after a long day at work.
Much of Manhattan's major construction is taking place on the West Side, near 10th and 11th avenues all the way to the Hudson River. The Javits Convention Center is also near the new station, which shares the same name as the massive mixed-use development under construction by the Related Cos and Oxford Properties Group.
The $20 billion Hudson Yards project, which bills itself as the largest privately financed real estate project in US history, is scheduled to be completed in stages until 2025. A good portion of its funding (estimated at $600 million) is coming through the US government's EB-5 visa program, and most EB-5 investors are from China.
The mayor spoke about the development and how the extended 7 line will play a major role. "It is necessary so that this new city within a city can be all it is. It's going to be 50 million new square feet near the Hudson Yards - 50 million square feet of new businesses, hotels, schools, housing, and - most especially important to me - affordable housing. Five-thousand units of affordable housing will ultimately be developed here - 25 percent of the total. There will be 14,000 office and retail jobs, more than 7,500 construction jobs in the process.
"I have to tell you - those are the kind of numbers that change people's lives, and change the economy of this city. But as I've said, the number of jobs alone is not the only issue and we're very proud of the fact that we greatly expanded the number of workers in this area who are covered by the Living Wage Law.
"We've worked with our partners at Related - we've generated 1,650 living wage jobs - jobs you can actually feed a family on," de Blasio said. "Looking ahead to all the jobs that will be constructed in this process, all of which we intend to ensure will pay a living wage. All of this anchored by the No. 7 extension."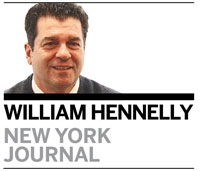 "Connecting Queens to the western reaches of Manhattan will provide new opportunities and easier commutes for countless New Yorkers, New York City Councilman Peter Koo told China Daily. Koo's district includes Flushing, home to the city's largest and fastest-growing Chinese population. "Convention attendees and West Side residents can now easily visit Flushing." But this being New York, there is always, shall we say, input into what else the Metropolitan Transit Authority should be doing.
"The downside is the train will become even more crowded and new development on the West Side will further increase ridership on a line that regularly experiences significant service disruptions," Koo said. "The MTA must be sure to provide additional resources to compensate for this increase in ridership."
Also, a study released on Tuesday by the Citizens Budget Commission (CBC) found that 37 percent of the No. 7 line's stations were not in a "state of good repair", which is the worst performance of all subway lines.
The CBC is a nonpartisan, nonprofit civic organization that seeks to "achieve constructive change in the finances and services of New York City and New York state government".
Contact the writer at williamhennelly@chinadailyusa.com