Zhou Enlai: Peacemaker at Bandung
Updated: 2015-04-23 08:30
(China Daily)
Comments
Print
Mail
Large
Medium
Small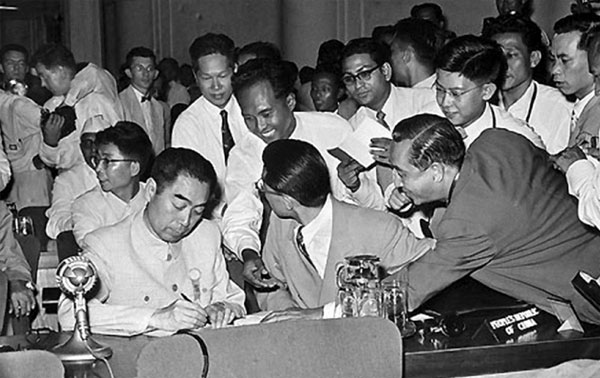 Then-premier and foreign minister Zhou Enlai signs autographs for admirers on the sidelines of the Asian-African Conference, also known as the Bandung Conference, Bandung, Indonesia in April 1955. [Photo/Xinhua]
Bandung Conference
The Asian-African Conference, also known as the Bandung Conference, was held in Bandung, Indonesia, in April 1955.
Twenty-nine Asian and African countries attended the conference, which was organized by India, Indonesia, Burma, Ceylon (Sri Lanka) and Pakistan. No Western power participated.
The Chinese delegation was led by then-premier and foreign minister Zhou Enlai.
That first international conference of Asian and African countries discussed the international situation and issues that were of common concern to their people, such as national sovereignty and struggles against colonialism.
The conference reached consensus, approving a final communique and a 10-point declaration-the Declaration on Promotion of World Peace and Cooperation-that laid out principles for state-to-state relations.
The 10 principles reflected the united spirit of the people of Asia and Africa against imperialism and colonialism, and the struggle for the defense of national independence and world peace, which was also known as the Bandung Spirit.
Kashmir Princess incident
On April 11, 1955, the Kashmir Princess, an Air India passenger plane chartered by China to carry its delegation, headed by Zhou, to the conference, was sabotaged and crashed in the sea en route from Hong Kong to Jakarta.
All 11 passengers-three staff members of the Chinese delegation, five Chinese journalists and three foreign journalists-were killed. Zhou, who had been due to fly on the plane, had changed his plans and was not aboard.
An investigation found that a bomb had been placed in the aircraft by a Kuomintang agent in an attempt to assassinate Zhou.
Zhou's 18-minute speech
On the first day of the Bandung Conference, some delegates attacked communism as "dictatorial" and "neocolonialism" in the presence of the Chinese delegation and suggested China was involved in subversive activities against neighboring countries.
To avoid the conference being sidetracked, Zhou decided to make an extemporaneous speech instead of delivering a prepared written statement.
In the speech, which lasted for 18 minutes, Zhou stated that the Chinese delegation had come to seek unity and not to quarrel, to seek common ground and not to create divergence.
Zhou invited the delegates to visit China, quoting a Chinese saying: "It is better to see for oneself rather than to hear many times." His speech won widespread acclaim.
Schedule
Chinese President Xi Jinping will visit Pakistan and attend the Asian-African Summit and activities commemorating the 60th anniversary of the Bandung Conference in Indonesia from April 20 to 24.

April 22
Attend the opening ceremony of the Asian-African Summit;
Meeting with Indonesian President Joko Widodo;

April 23
Bilateral meetings;
Attend the closing ceremony of the Asian-African Summit;

April 24
Historical walk from Savoy Homann Hotel to Gedung Merdeka;
Attend activities commemorating the 60th anniversary of the Bandung Conference;