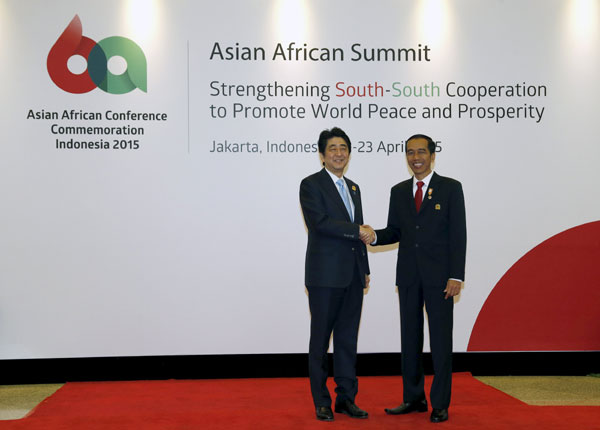 Indonesia's President Joko Widodo (R) greets Japan's Prime Minister Shinzo Abe during the arrival for the opening ceremony of the Asian African Conference in Jakarta April 22, 2015.[Photo/Agencies]
At the Asian-African Summit in Bandung, Indonesia last week, Japan's Prime Minister Shinzo Abe expressed "deep remorse" about the past war, but stopped short of offering apologies for Japan's aggression as some of his predecessors have done.
People in Japan are reading Abe's Bandung remarks carefully, as he is due to issue a statement in August to mark the 70th anniversary of the end of World War II.
The conservative Yomiuri Shimbun took the speech as Abe's first opportunity to unveil his own perceptions on history to an overseas audience, ahead of his formal statement in August.
The liberal daily Asahi Shimbunwas disappointed in the Japanese prime minister for omitting any apology and such terms as Japan's "colonial rule" and "aggression". It called the 1995 Murayama Statement "a foundation for Japanese diplomacy".
Then prime minister Tomiichi Murayama issued the key Japanese government statement on the 50th anniversary of the war's end in 1995, offering a "heartfelt apology".He referred to "mistaken national policy", "colonial rule", "aggression" and "irrefutable facts of history".
During his meeting with Chinese President Xi Jinping on the sidelines of the Bandung Conference on Wednesday, Abe assured Xi that he will uphold the previous Japanese governments' apologies.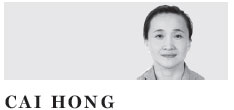 The US Congress, where Abe will deliver a speech this week, will be his second chance to put out a feeler to gauge international opinion. Despite the United States being Japan's biggest ally, however, it might not necessarily be comfortable for him.
Japan's ambassador to Washington, Kenichiro Sasae received a letter on Thursday from 25 US lawmakers appealing to Abe "to formally reaffirm and validate" the apologies for Japan's wartime aggression made by his predecessors. They hope that Abe will use the 70th anniversary of the end of WWII to enhance Japan's relationships with its neighbors, "through a vision of long overdue healing and reconciliation".
White House officials also urged Japan on Friday to settle its tensions over war-time history with South Korea based on the statements of apology in the past.
Abe is expected to visit the US WWII memorial on Washington's National Mall, which honors hundreds of thousands Americans who died during the conflict, many at the hands of Japanese forces.
This symbolic act, which is apparently intended as a move to pacify Abe's critics, has been bashed by bloggers on Japan's websites.
One of them recommended that Abe go and visit Nanjing or the headquarters of the Imperial Army's Unit 731 based in China, which was Japan's principal practitioner of human experiments. By doing so, he might make baby steps towards earning credibility. Visiting Arlington is unlikely to win him any sympathy in Asia.
But Abe is keeping the US in mind.
It wasn't until the US Congressional Research Service issued a report in May branding Abe a "nationalist" and warning that the controversy over historical issues could damage US interests that Abe and the Liberal Democratic Party went into serious damage limitation mode. Abe now say he fully accepts the statements issued by previous administrations.
But he told a Japanese TV program on April 20 that he does not intend to use the words "aggression" and "apology" in his statement. "There is no need to issue a (new) statement if it is to be the same as previous statements," he said.
Many people in Japan want their government to confront the country's history with honesty and sincere apologies. For them, this approach will not only heal relations with those countries victimized by Japan, but also honor the 3.1 million Japanese who died in the war.
The Japanese government's words about the war matter. And Abe must act and uphold the truth of history so they speak loudly.
The author is China Daily's Tokyo bureau chief. caihong@chinadaily.com.cn