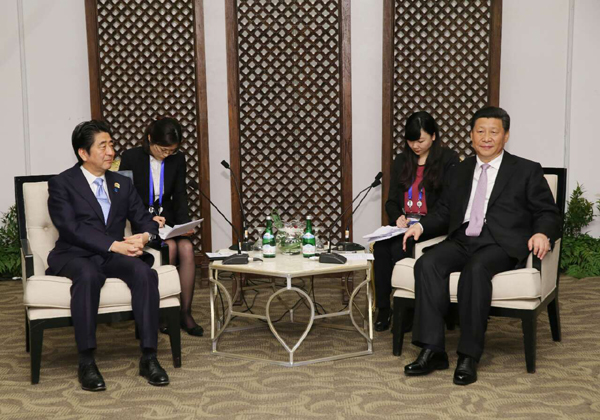 Chinese President Xi Jinping (R) and Japanese Prime Minister Shinzo Abe hold a meeting at the request of the Japanese side in Jakarta, Indonesia, April 22, 2015.[Photo/Xinhua]
Chinese President Xi Jinping and Japanese Prime Minister Shinzo Abe held a meeting at the request of the Japanese on Wednesday afternoon on the sidelines of the Asian African Summit held in Jakarta.
That the meeting has actually taken place exceeded the expectations of many people due to the tensions in bilateral ties.
Beijing is sincere about improving ties with Tokyo. The meeting itself shows Beijing values high-level communications with the Japanese and is willing to shoulder its due responsibilities in getting bilateral relations back on the right track.
During their meeting, Xi stressed that the two sides should stick to the spirit demonstrated in the four political documents that act as the supporting pillars of their relationship, and that Japan should take seriously the concerns of its Asian neighbors on historical issues.
The remarks, together with calls on the two neighbors to adopt a positive approach toward each other, strengthen communication, boost mutual trust and expand exchange and cooperation, should lead to a continuous rapprochement between the two.
Given that the island country is responsible for the strained atmosphere between the two neighbors, the ball is in Japan's court now.
Yet it seems the Abe administration has failed to shore up a political will to either seriously reflect upon its handling of bilateral ties or sincerely bridge the gaps between the two countries. Instead, it has opted for an opportunist approach in pursuit of short-term gains.
Abe stopped short of making an apology to countries victimized by Japan's aggression before and during World War II at the Asian African Summit, a chance he should not have missed.
And on the day of the Xi-Abe meeting, a group of Japanese lawmakers from various parties paid homage to the Yasukuni Shrine, which honors Japan's war dead, including 14 Class-A convicted WWII criminals.
As long as the Abe administration hangs to its short-sighted policy toward China-Japan ties, it will be difficult to translate the symbolic meeting between Xi and Abe into a real thaw in bilateral ties.
It is time Abe awoke to the fact that the estrangement between Beijing and Tokyo is costing both sides a lot.